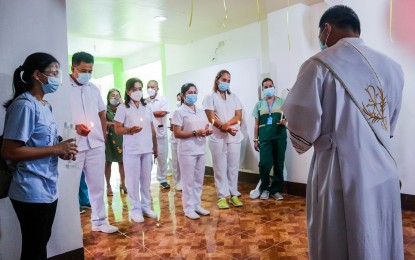 MANILA – Senator Richard Gordon has welcomed the Department of Budget and Management's (DBM) reversal of Circular No. 2020-4 that raised the salary grade (SG) of entry-level nurses but demoted the positions of Nurses II to VII to a lower rank.
The memorandum issued by Malacañang on June 1, 2021 increases the salary of Nurse II from SG 15 (starting at PHP33,575 per month as of January 2021) to SG 16 (PHP36,628) while it retains the position titles of Nurse III to Nurse VII with their corresponding salary grades.
"We welcome this decision by Malacañang and we are glad that finally, our hardworking nurses will get higher salaries. It is just right that they are compensated well as their role is very important to public health especially during this time of pandemic," Gordon said in a news release.
On July 17, 2020, Gordon filed a bill amending Republic Act No. 9173, or The Philippine Nursing Act of 2002, which provides a new comprehensive policy for nurses and will give them opportunities to advance themselves while they serve the country's growing needs for health care professionals.
According to the law, the minimum base pay for nurses working in government hospitals and health institutions should start at Salary Grade 15.
The measure also states that "once nurses graduate and become licensed, they should have the option to be hired by the government at a just pay and dispatched to places in the country where they are needed the most."
"For a long time, they have been clamoring for the adjustment of their remunerations. They are given low paying jobs with no benefits, and hospitals have taken advantage of this system in a way that these hospitals become stepping stones for nurses to work abroad," Gordon said.
"By providing our nurses with just salaries and benefits, we are not just giving them justice, but our people in need of better health care, as well," Gordon added. (PR)