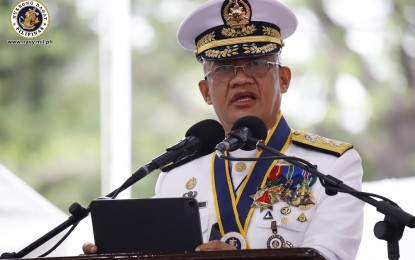 MANILA – Newly-appointed Philippine Navy (PN) flag-officer-in-command (FOIC), Rear Adm. Adeluis Bordado, pledged to continue all the programs and projects initiated by his predecessor, Vice Adm. Giovanni Carlo Bacordo, to sustain the development of the naval service.
"For the PN to sustain its organizational development and modernization path, it is my responsibility to continue what our outgoing FOIC, Vice Adm. Giovanni Bacordo, and his predecessors have already started," Bordado said in his assumption-of-command speech at the PN headquarters in Manila late Tuesday afternoon.
He also said "continuity and change" are intertwined concepts that represent the direction of his leadership.
"And as we pursue continuity in our initiatives and in our growth as an organization, change will be an inevitable effect and end-point. PN will be steady on course, full speed ahead," he added.
Bordado also said he would focus on education and training to boost the Navy's "manpower and physical competence."
This as the PN tries to seek solutions to many of the complex organizational and threat-based problems in the country's security landscape.
Solutions for these need to be "carefully conceived ahead of time," he said.
"We will ensure alignment horizontally among the operational and support units and vertically among the levels of command. This is how we will continue to modernize our mindset," he added.
Bordado, who hails from Camarines Sur, graduated number 4 in the Philippine Military Academy Class of 1988. His expertise lies in operations, intelligence, information technology, budget, planning, and education and training.
Among the key positions he held are being chief of naval staff and commander of the Armed Forces of the Philippines Education, Training and Doctrine Command, Naval Installation Command, Naval Forces Southern Luzon, and Sealift Amphibious Force of the Philippine Fleet.
Meanwhile, in his farewell speech, Bacordo underscored fairness, accountability, transparency, execution, and setting an example as the most important principles of his leadership.
He said Bordado "is capable (of bringing) the Navy forward to modern platforms, modern systems, and modern mindsets."
Bacordo steered the PN during one of its most challenging times in recent history due to the pandemic.
Under his term, the Navy acquired two brand-new, multi-mission and missile-capable frigates, the BRP Jose Rizal (FF-150) and BRP Antonio Luna (FF-151).
Bacordo also pushed for the inculcation of modern mindsets among the sailors and marines, along with modern platforms and systems while ensuring the continuity and sustainability of new defense capabilities in the decades to come. (PNA)