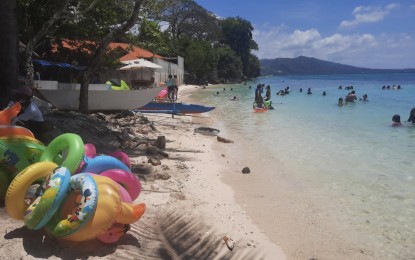 CEBU CITY – Tour and travel operators in Cebu and Central Visayas have expressed willingness to work with the Department of Tourism (DOT) in setting directions and strategies in tapping fully-vaccinated tourists as a come-in market to revive central Philippines' tourism industry.
Desiree Chan, speaker of the virtual Tourism Coffee Table Discussion as part of the Cebu Business Month (CBM) 2021 on Tuesday, said tour operators and travel agents in the region have seen this as a stop-gap action plan as they appealed for economy-driven protocols to support the industry that was heavily impacted by the pandemic.
The coronavirus disease 2019 (Covid-19) crisis, she said, has a tremendous effect on travel and tourism with the majority of travel establishments temporarily closed for over a year now, while others have shifted to a "work from home"' (WFH) arrangement, if not ceased to operate at all.
Chan said market demand from both inbound and outbound tourists and a good restart of the travel business, are crucial in the quest to reopen the economy.
She said the forecast of a 2024 return of international arrivals to pre-Covid levels under a new normal scenario sounds really concerning.
Tour operators and travel agents now focus on domestic tourism and serving the essential travel needs of passengers, she said, stressing that travel and tour core business comes from out-of-town clients who need package tour components for their convenience, safety and security.
While local tourism has slowly revived, Cebu residents book services like hotels, transportation, destination activities directly by themselves.
Chan, however, said these strategies have not tackled the problem of depleting financial resources of the hospitality sector.
Chan, general manager of Southwind Travel & Tours, said the government can craft more economy-driven resolutions on travel protocols such as shortened quarantine, increase in the number of fully vaccinated international passengers allowed to enter various airports of the country and ensure clarity and stability of entry and exit rules.
She also said the state can study fiscal incentives like tax breaks covering the year 2020 to 2022, the period that the industry has been hit the most by the Covid-19 crisis, as well as subsidy for medical and health benefits for tourism workers as it cannot be covered by the sector's existing budget.
"Business continuity is still our biggest challenge as far as financial planning is concerned. The travel situation has not improved. In fact, it has worsened these past weeks as we enter mid-2021," Chan said.
She said the government can plot out policies affecting international arrivals such as the required isolation protocols, flight diversions and unpredictable border shutdown that would discourage vaccinated travelers from coming.
She added that domestic tourism is not that appealing due to diverse health protocols among local government units. (PNA)