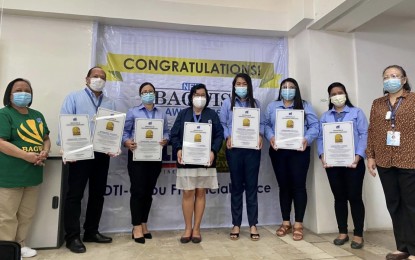 CEBU CITY – The Department of Trade and Industry (DTI) in Cebu has granted the "Gold Bagwis" seal to 30 department stores, supermarkets, and service and repair shops here in recognition of their efforts to uphold the rights and welfare of consumers and the practice of responsible business amid the pandemic.
DTI-Cebu provincial director Rose Mae Quiñanola said 19 establishments were awarded for their continuous compliance while the 11 others were new.
"The certificate of continuous compliance is given to establishments conforming with the parameters set forth by DTI (after three years of the first award) and the applicable consumer laws, effective customer relations, efficient store management operations, exemplification of social commitment and responsibility, and established quality orientation management," she said in a statement on Wednesday.
Having been certified as a compliant business establishment after reassessment, DTI extended the validity of the Gold Bagwis Awards conferred to Toyota Mandaue (Cebu City, South and North), SM City Cebu Supermarket, Savemore Market (Mactan, Basak, Maribago, EMall, Maguikay, Parkmall and Canduman), Belmont Industrial Tool Center, Super Shopping Market (Cebu and JCenter Mall), Metro Department Store (Ayala and Colon) and Robinsons Supermarket (Banilad, Cebu-Fuente and Talisay).
"There are plenty of benefits of having this award (DTI Bagwis Seal). This includes internal solving of consumer reports, promotion of products and services and priority slots to seminars and workshops by DTI," Toyota-Cebu customer relations manager Edward Darrel Caratao said.
Eva Du, assistant vice president for the Visayas at SM Supermarket, said the seal has helped raise the impression of their consumers by promoting excellent service, nurturing standards, and delivering quality goods.
DTI Cebu also cited the same 'Gold' seal to new applicants including Metro Ayala (Supermarket and Appliance Center), Metro Colon (Department Store and Appliance Center) and several branches of the Robinsons Supermarket (Island Central Mactan, Pueblo Verde Mactan, Tabunok, Minglanilla, Talamban, Baseline Center Cebu and Galleria Cebu).
"DTI Cebu was instrumental in helping our establishments comply with the requirements needed. We are also encouraging other businesses to apply," said Michael So, a representative of Robinsons Supermarket.
The seals were handed on Wednesday and will be placed at the consumer welfare/customer service desks of the conferred establishments.
Other retail establishments like specialty stores, hardware stores, and appliance centers may also vie for Bagwis Awards, and are encouraged to apply for this annual awarding to safeguard the interests of consumers and to foster fair business practices.
Applicants may contact DTI Cebu–Consumer Protection Division via telephone 255-6971 local 302 and/or email
[email protected]
for information, assessment and technical assistance.
The awarded establishments were also informed and are encouraged to apply for the DTI Safety Seal. (PNA)