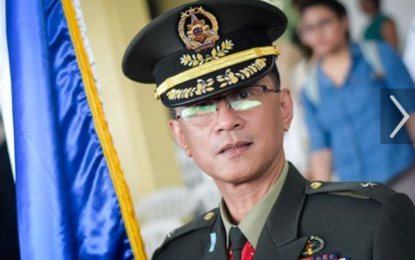 MANILA – Maj. Gen. Bartolome O. Bacarro, new commanding general of the 2nd Infantry Division of the Philippine Army, is known for his bravery in combat when he led his men in repulsing 150 New People's Army (NPA) rebels that attacked Maconacon town in Isabela in January 1991.
The firefight lasted for 10 hours, forcing the communist rebels to retreat after suffering 16 casualties.
Bacarro, who was then a young second lieutenant, was leading a team of soldiers and some members of the Civilian Armed Force Geographical Unit (CAFGU) when rebels attacked the municipality of Maconacon early evening of January 26, 1991.
Although outnumbered, Bacarro was unfazed as he and his men engaged the rebels in a close quarter firefight.
At the height of the fierce gun battle, Bacarro was hit in his left thigh, but despite his wound, he scaled a nine-foot wall to rescue CAFGU troopers who were pinned down inside a compound.
Racing against time, Bacarro commandeered a truck parked inside the compound, and at full speed rammed the wall, allowing the CAFGUs to escape.
The rebels fled in haste taking with them wounded comrades.
Bacarro was awarded the Medal of Valor, the highest decoration the Armed Forces of the Philippines (AFP) can give to a soldier for gallantry in combat beyond the call of duty,
Former President Corazon C. Aquino handed the medal to Bacarro at Camp Aguinaldo on July 1, 1986.
"For acts of conspicuous courage, gallantry and intrepidity at the risk of life above and beyond the call of duty during a ten-hour encounter with about 150 fully armed communist terrorists that attacked the town of Maconacon, Isabela on 26 to 27 January 1991, while serving as Commanding Officer, 6th CAFGU Active Auxiliary Company, 21st Infantry Battalion, 5th Infantry Division, Philippine Army," stated in the award.
"In spite of the overwhelming number of the armed insurgents and aware of the lack of air and artillery fire support and without any possible troop reinforcement due to time, location and weather constraints, then SECOND LIEUTENANT BACARRO courageously closed-in and engaged the enemy in a fierce firefight. Despite being wounded, he executed a systematic attack through proper maneuvers and strict adherence to fire discipline by firing only at sure enemy targets to conserve their ammunition and spare the civilians from being caught in the crossfire. He successful [sic] led his team in inflicting maximum casualty on the enemy. His display of unflinching and indomitable courage inspired and motivated his men to fight courageously," it added.
Last April 19, Bacarro was installed the commanding general of the 2nd Infantry "Jungle Fighter" Division in a change of command ceremony at Camp Capinpin, Tanay, Rizal.
He replaced Maj. Gen. Greg T. Almerol who was named commander of the Armed Forces of the Philippines (AFP) Eastern Mindanao Command. (PNA)