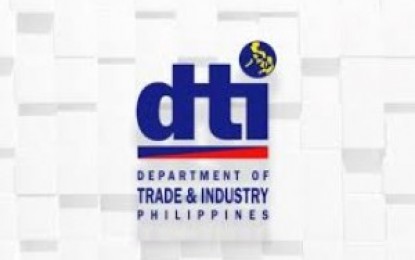 MANILA – The Department of Trade and Industry (DTI) has reported that a total of PHP4.5 billion worth of loans to micro, small and medium enterprises (MSMEs) were approved under the Covid-19 Assistance to Restart Enterprises (CARES) program as of June 9.
In a statement Thursday, the DTI said the PHP4.5-billion loans assisted 30,408 MSMEs that applied under its zero-interest loan.
The DTI, through its financing arm Small Business (SB) Corp., rolled out the CARES program in May 2020 to assist MSMEs to recover from their losses brought by the pandemic and the lockdown measures.
The DTI started the CARES program with PHP1 billion from its 2020 budget and got another PHP10 billion from the Bayanihan to Recover as One (Bayanihan 2).
Of the PHP10 billion from the Bayanihan 2, PHP6 billion were allocated for MSMEs in the tourism sector which are heavily affected by the ongoing global health and economic crisis.
However, the DTI has until the end of the month to roll out the remaining budget for its microfinancing program as the Bayanihan 2 is only effective until June 30.
To accelerate the remaining allocation, the DTI is working with the Department of Tourism (DOT) for the CARES for TRAVEL (Tourism Rehabilitation and Vitalization of Enterprises and Livelihood).
The DTI and DOT will accelerate the utilization of CARES for TRAVEL as more tourism economic activities start to reopen their operations.
"With this microfinancing program providing collateral-free and interest-free loans to businesses affected by the pandemic, our MSMEs can begin to rebuild their respective businesses and take part in the recovery that has started around the world," DTI Secretary Ramon Lopez said.
Lopez is also optimistic of the start of the vaccination for the A4 group which include economic front-liners, as this will boost consumer and business confidence.
"The country's vaccination program will prove to be a timely shot in the arm as well for the economy, as it will lead to continuous reopening with less threat of a surge, thus creating a good momentum for sustained recovery, more investments and greater employment opportunities for the Filipinos," he added. (PNA)