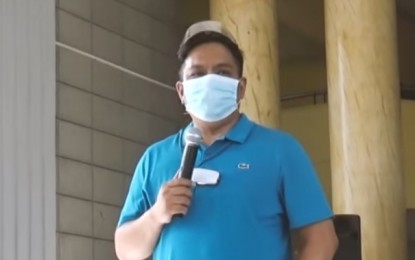 DIGOS CITY – Vice Governor Marc Douglas Cagas assumed as the new governor of Davao del Sur on Thursday afternoon following the death of his father earlier in the day.
Marc Douglas is the only son of Governor Douglas Cagas and the province's lone district Rep. Mercedes Cagas.
Senior Board Member for the First District of Davao del Sur John Tracy Cagas, on the other hand, also assumed office as the concurrent vice-governor of Davao del Sur.
In a Facebook post of Councilor Salvador Dumogho, he showed a photo of Digos City Mayor Josef Cagas signing the oath of office of Marc and John Tracy.
Sherwin Cesar, Davao del Sur provincial information officer, also announced during his local radio program at Charm Radio about the two officials who were sworn in to their new positions.
The oath-taking came after the sudden death of the Cagas patriarch at the Medical Center of Digos Cooperative (MCDC) Hospital due to complications from the coronavirus disease 2019 (Covid-19) based on information from lawyer Ria Cagas-Fernandez, a niece of the late governor.
The governor's remains were immediately transported to a funeral home in Davao City at about 10 a.m. Thursday where it was immediately cremated and transported back to Davao del Sur by the official's immediate family members.
Hiru Gustavo Undalok, assistant provincial information officer, said the family has yet to determine where to place their patriarch's urn to allow those who wanted to look at his remains and extend their sympathies to the bereaved family. (PNA)