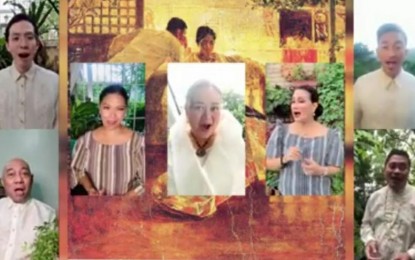 MANILA – It has been 123 years ago since the Philippines has been freed from the clout of Western power, and yet, Filipinos here and abroad never forget to look for different ways to celebrate the country's independence.
Filipinos have been celebrating Independence Day every June 12 since 1962. But before that, they used to celebrate the country's independence on July 4.
It was on July 4, 1946 when the United States formally acknowledged the Philippines' independence.
However, the late President Diosdado Macapagal decided to move the date of the Philippine Independence from July 4 to June 12.
Macapagal adopted the historians and political leaders' stance that the Philippines achieved its independence upon the establishment of the Philippine Republic by the Revolutionary Government under Gen. Emilio Aguinaldo.
Aguinaldo, the country's first president, proclaimed the country's independence from Spanish colonial rule in Kawit, Cavite on June 12, 1898.
Up to this date, Filipinos continue to remember how their forefathers stood up to challenge more than a century ago to defend the country's freedom.
Filipinos all over the world usually hold grand celebrations of the Philippine Independence prior to the coronavirus disease 2019 (Covid-19) pandemic.
Since people's movement remains restricted due to the Covid-19 pandemic, many opted to celebrate Independence Day through online platforms.
Ephesus Teatron Group Inc., in celebration of 123rd Independence Day, featured on its official Facebook page a collection of traditional folk songs that reflect the country's rich history and culture.
The Bayanihan Council in Abu Dhabi also organized a photography, painting, and singing competitions with a theme of "Kalayaan sa Gitna ng Pandemya (Freedom amid the Pandemic)" for the Filipino community in the host country.
The Ugnayang Bayan Switzerland is also set to hold a virtual commemoration of Independence Day on Saturday.
The Philippine Independence Day Council based in New York also held a virtual ceremony on June 6 to keep the country's culture and traditions alive.
In celebrating the country's freedom, The SM Store is also treating its customers with a 10 percent discount on select items from June 12 to 13 for every purchase with a minimum worth of PHP3,000.
Max's Restaurant is also celebrating Philippine Independence Day by giving their customers a PHP123 discount when they purchase one whole regular or family fried chicken from June 11 to 13.
Dine-in customers can also avail themselves of Max's-All-You-Can which allows them to enjoy unlimited servings of Max's select favorites like Fried Chicken, Spicy Tofu, Chicken Sisig, Lumpiang Shanghai, and rice for PHP499 per head. They can also add PHP99 for unlimited Halo-Halo Solo, or PHP49 for up to two servings of drinks.
The Metro Manila Rail Transit is likewise giving free rides to commuters from 7 a.m. to 9 a.m. and 5 p.m. to 7 p.m. on June 12 as a way to commemorate the country's 123rd Independence Day.
President Rodrigo Duterte is scheduled to lead the Independence Day rites on June 12 "outside Metro Manila," Presidential Spokesperson Harry Roque said on Thursday.
The venue, however, was not disclosed due to "security reasons." (PNA)