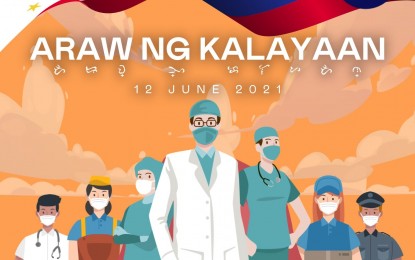 MANILA – National Task Force (NTF) Against Covid-19 chief implementer, Secretary Carlito Galvez Jr., on Saturday commended all pandemic front-line workers, equating their courage and selflessness to Philippine heroes who had fought for the country's freedom, as the country commemorated its 123rd Independence Day on Saturday.
"As we commemorate Independence Day, let us pay tribute to our doctors, nurses, soldiers, factory workers, government personnel, riders, soldiers, and policemen," Galvez, also the vaccine czar, said in a statement.
He described front-liners as "the epitome of courage, determination, and selflessness – the very same qualities of our heroes who more than a hundred years ago sacrificed their lives for our nation's independence."
The country's freedom, he said, is now being threatened, "not by a foreign nation who wants to rule over us, but by a pandemic that has upended all aspects of our daily lives."
"For more than a year, we have fought valiantly to keep this unseen enemy from claiming the things that matter the most to us – our livelihoods and our loved ones," he said, citing that most Filipinos have lost jobs, possessions, and even loved ones in this "long and difficult battle" with the pandemic.
Galvez said during these challenging times, "heroes have emerged and are putting their lives on the line so that their fellow Filipinos can be protected from the disease and receive vital services."
"These are the brave men and women who serve in hospitals, health centers, government offices, fast food stores, factories, and checkpoints amid the threat of the disease," he said.
Galvez, meanwhile, emphasized that everyone can be a hero in these trying times by demonstrating the "Bayanihan" spirit and extending a hand to those who are in need.
"This is the only way we can regain our freedom from this health crisis, put an end to this pandemic, and bring back a greater sense of normalcy to our lives. Happy Independence Day to all!" he said. (PNA)