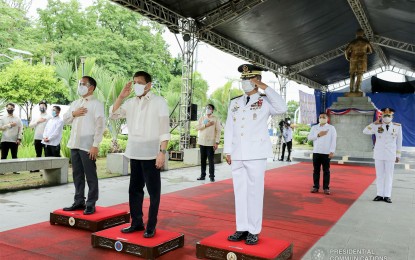 MANILA – President Rodrigo Duterte on Saturday honored as "modern heroes" the Filipino people who continuously battle the Covid-19 pandemic.
In his Independence Day speech at the Bulacan Provincial Capitol in Malolos City, Duterte said it is an occasion to "honor our modern-day heroes — our healthcare workers, law enforcement officers, and other front-liners who have been instrumental in our fight against the Covid-19 pandemic".
He also recognized the sacrifices made by front-liners at the risk of their lives.
"In the past year, they have risked their own lives and sacrificed their own comfort and security to ensure that our society will continue to function despite this crisis. Maraming pong salamat sa inyong pagmalasakit at serbisyo (Thank you very much for your compassion and service)," he said.
The President said a wall of heroes is now being built at the Libingan ng mga Bayani in Fort Bonifacio, Taguig City where the names of doctors, nurses, and medical personnel who died due to Covid-19 will be inscribed.
"At lahat 'yung namatay na mga duktor, mga nurses, 'yung mga attendants na nahawa ng Covid (All the doctors, nurses, and attendants who died due to Covid) will be honored by their names inscribed on that wall. It is now being built. And I'd like to thank the Armed Forces of the Philippines for their pagmalasakit sa kapwa Pilipino (compassion for Filipinos)," he said.
The Chief Executive also conferred posthumously the Order of Lapu-Lapu with the rank of Magalong on Generals Gregorio del Pilar and Marcelo H. del Pilar, both Bulacan natives, in recognition of their "extraordinary acts of heroism that served as the foundation of this nation".
The decoration was received by Marita del Pilar Villatema-Santos, the grandniece of Gregorio.
"Marcelo H. del Pilar was a genius in the realm of arts and letters. Under the pen name Plaridel, he wrote fiery editorials that exposed the atrocities and injustices of the colonizers. Gen. Gregorio del Pilar, on the other hand, was hailed as the Hero of Tirad Pass, a true patriot who made the ultimate sacrifice in defense of our young republic," Duterte said.
"It is just fitting that, more than a century since their exploits, these two sons of Bulacan continue to inspire succeeding generations of Filipinos to cherish the liberties and freedoms that they bled and fought for. On behalf of the Filipino people, allow me to convey our heartfelt gratitude to General Gregorio del Pilar and Gat Marcelo H. del Pilar. Maraming pong salamat sa inyong dalawa (Thank you very much to both of you)," he added.
He urged the public to honor their legacies through small acts of heroism, especially during this time when the country is still grappling with the effects of the pandemic.
Duterte said the country has come a long way since the time of the heroes it honors today.
"We are now a nation that is modern, progressive, and ever thriving. However, our continued progress will only be possible if we have a strong understanding and appreciation of the liberties that we enjoy today," he said.
He encouraged the nation to "move forward in solidarity and give greater meaning to the freedom that our forebearers achieved for us 123 years ago". (PNA)