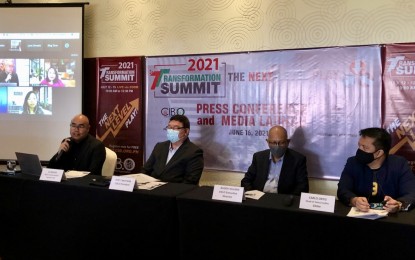 CEBU CITY – The information technology-business process management (IT-BPM) industry in Cebu is projected to continue growing as among the key economic drivers in the southern economic powerhouse amid the coronavirus disease 2019 (Covid-19) pandemic.
This projection was shared by Cebu IT BPM.Organization (CIB.O) president Pert Cabataña on Wednesday during a press briefing on the upcoming 2021Transformation Summit happening on July 12-15.
"The industry has not declined but we are not entering a slow growth pace or curve," Cabataña said, adding this is a "normal process" expected by the industry as it reels from the economic impact of the Covid-19 pandemic.
IT-BPM has been one of the top job generators in Cebu for several years now, making the island among the top investment destinations for outsourcing companies globally.
As of last year, the industry employed about 180,000 to 190,000 workforce, up from 170,000 two years ago, according to estimates disclosed by Cabataña.
He said the upcoming virtual summit will serve as a platform for key stakeholders in the IT-BPM, academe, and the government to discuss strategies for the "big leap forward" under a global pandemic with its far-reaching impact on lives and businesses.
Cabataña said while the pandemic has transformed a lot of industries, the IT-BPM sector has sustained its "normal operation" amid the pandemic, except it has widely adopted flexibility as to how it operates.
He added the key challenges in today's business environment include innovation and ecosystem development, global market trends, artificial intelligence, big data, health and hygiene, economic forecast, digital education, and a changed work arrangement.
Cabataña said the challenge now for the industry is how it should continue to thrive in these new realities and synergize to make the big leap forward so it sustains to drive the economy.
He said industry experts are set to discuss these issues during the Transformation Summit.
DJ Moises, chairman of the 2021 Transformation Summit, also shared an optimistic view on the prospects of the IT-BPM industry, saying it continues to be the "lifeline pillar powerhouse of the economy" amid the pandemic.
Moises said the industry has been projected to overtake the remittances from overseas Filipinos as the top source of dollar earnings to the Philippines.
He added the industry is poised to move forward to a better new normal as the "pandemic is just a temporary situation and not a permanent state."
Organized by Cebu's main IT-BPM organization CIB.O, the four-day virtual event will feature local, national, and international speakers tackling topics such as industry updates and world market trends, local and national economic forecasts, as well as research developments on AI, IoT, Blockchain, Robotics, and Virtual Reality.
The Transformation Summit 2021 is in line with CIB.O's goal to develop the strengths and sustain the growth of Cebu's IT-BPM industry and make it a top choice for higher value services, aside from call centers. (PNA)