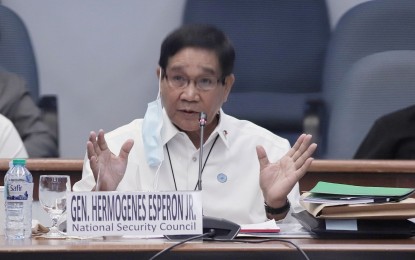 MANILA – The Communist Party of the Philippines-New People's Army (CPP-NPA) uses anti-personnel mines (APMs) to force and blackmail the government to restart peace negotiations with them, a top government security official said.
"They want to get it, blackmail us and probably plant more, ang dami-dami nilang ginagawang landmines. Ibig nilang sabihin, dapat tayong matakot diyan, makipag-peace talks na lang tayo. Eh talagang pissed off tayo, napi-pissed off tayo sa peace talks nila (They are making a lot of landmines (APM), so for them, it means we must get scared so that we will be forced to talk peace with them. But we are really pissed off, we got pissed off with their idea of peace talks)," National Security Adviser Hermogenes Esperon, Jr. said during the June 14 episode of "Tagged: Debunking Lies by Telling the Truth".
With President Rodrigo R. Duterte's permanent termination of the peace negotiations with the CPP-NPA-National Democratic Front (NDF) in March 2019, Esperon said communist terrorist groups are resorting to blackmail the government via their indiscriminate use of APMs.
"And kung ang balak nila ay i-blackmail tayo, na akala nila ay hindi natin kayang ipagtanggol ang ating mga kababayan, nagkakamali sila. Dahil ang Armed Forces at saka PNP, hindi lang sila magtatanggol sa ating mga kababayan kung hindi kasama natin ang ating mga kababayan upang bigyan ang sarili nila ng proteksyon laban sa mga karumal-dumal na ginagawang komunistang teroristang ito (And if their planning to blackmail us, and if they think that we cannot defend our countrymen, then they are wrong because the Armed Forces and the Philippine National Police are not only defending our fellow Filipinos, but are joined by our countrymen in the effort to protect themselves against the atrocities committed by the communist terrorists)," said Esperon, who is also vice-chairperson of the National Task Force to End Local Communist Armed Conflict.
He added that the CPP-NPA stage terrorist acts to bluff and compel the government to engage into their kind of peace talks.
"Parang napakasama ng intent tapos hindi naman talaga peace talks ang gusto nilang mangyari (their intentions are not good, they do not really want peace talks). They really wanted a coalition government)," he said.
The CPP-NPA is listed as a terrorist organization by the United States, the European Union, the United Kingdom, Australia, Canada, New Zealand, and the Philippines.
Being on the receiving end of APM attacks during his long military career, Esperon said he is supportive of all calls to remove this kind of weapon from use, once and for all.
"And I join the community, the relatives of Kieth and Nolven, and all of us Filipinos to join hands and condemn this. Condemn the act, condemn the actors, the perpetrators," he added.
Esperon was referring to the June 6 APM attack of NPA rebels on a group of civilians, resulting in the instant deaths of Far Eastern University football players Kieth Absalon, 21, and his 40-year-old cousin Nolven in Barangay Anas, Masbate City. Nolven's 16-year-old son sustained injuries.
He scored members of militant groups for condemning the APM attack against the Absalon but not the perpetrators.
"They are condemning the act, but they would not condemn the actors or the perpetrators. Is there any imaginable detachment between the act and the actor, the perpetrator? Para bang panloloko yata iyan ah. Paano naman magagawa iyong act na walang gumawa? (it seems that they are fooling us. How can the act be achieved or done without someone doing it)," he added. (PNA)