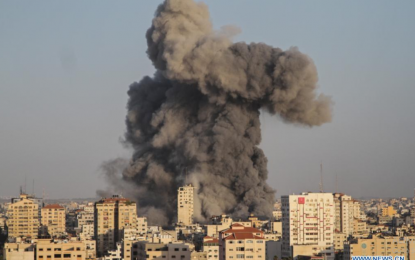 MANILA – President Rodrigo Duterte has expressed objection to the Philippines' vote backing the United Nations Human Rights Council's (UNHRC) investigation into supposed Israeli war crimes and actions in the Gaza strip, Malacañang confirmed on Thursday.
This, after Duterte on Wednesday said he was not consulted on the country's UNHRC vote.
"Did the President disagree with the vote? Yes, he did. Can it be taken back? Apparently not," Presidential Spokesperson Harry Roque said in a virtual press conference.
The UNHRC on May 27 adopted a resolution establishing an inquiry into alleged violations of humanitarian law and abuses of international human rights in the Palestinian territories and inside Israel.
The Philippines is among the 24 UNHCR state-members that voted in favor of the investigation into the decades-long "systematic" discrimination against and domination over Palestinians.
Roque said Duterte has raised concerns over the mechanism and procedure on making a vote in UNHRC's resolutions.
Duterte, Roque said, has expressed optimism that state leaders would be consulted first before UNHRC let state parties vote in any of its resolutions.
"The President has made sure that there will hence be a mechanism and procedure, as far as voting on crucial issues where the views of the chief architect of foreign relations should at least be consulted," he said.
Roque added "relevant" Philippine senior officials have already been given guidance to "ensure that Philippine interests are protected and upheld in multilateral fora."
The Philippines, nevertheless, would keep its "excellent" ties with Israel despite its recent vote backing the UNHCR probe, Roque reiterated.
"The Philippines value[s] and will continue to maintain excellent relations with Israel and indeed with all partners of the international community in the pursuit of common goals and objectives grounded on shared values and interests," he said.
The Israeli Foreign Ministry earlier summoned Philippine Ambassador to Tel Aviv Macairog Alberto to clarify the Philippines' UNHRC vote.
Gilad Cohen, Israel's Ministry of Foreign Affairs deputy director general for the Asia-Pacific, earlier deemed the Philippines' vote as "unacceptable to Israel, and constitutes a reward for terrorism."
Israeli forces and the Hamas militant group have agreed to a ceasefire to end an 11-day conflict that claimed the lives of at least 231 Palestinians and 12 Israelis.
The ceasefire entered into force after Egypt and Qatar brokered an agreement between the two parties to stop the war. (PNA)