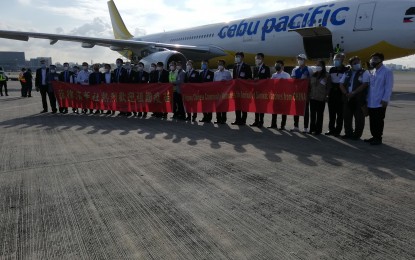 MANILA – Additional 1.5 million doses of Sinovac's CoronaVac vaccine arrived here Thursday.
One million of these were purchased by the government, while 500,000 were purchased by the Federation of Filipino Chinese Chambers of Commerce and Industry, Inc. (FFCCCII).
The shipment arrived via Cebu Pacific (CEB) flight 5J 671 that landed at the Ninoy Aquino International Airport (NAIA) at 7:15 a.m.
Vaccine czar Carlito Galvez, Jr. thanked the private sector for its support in the government's vaccination efforts.
Health Secretary Francisco Duque III, who was also at the airport, said the Chinese community has agreed to follow the government's prioritization groups.
This means that they will also prioritize the health front-liners, senior citizens, persons with comorbidities, and essential workers in their vaccination drive.
Last June 10, the country received one million doses of the CoronaVac vaccine. However, there was a delay in the vaccines' distribution across the country as the government had to wait for a certificate of analysis (COA) from Sinovac.
The vaccines cannot be transported in the regions if the documents are incomplete as the COA is among the requirements of the Food and Drug Administration.
Duque, on Thursday, said the latest shipment's COA will arrive in four to five days.
Meanwhile, the latest shipment is so far the biggest and the third batch of Sinovac's Covid-19 jabs scheduled to be delivered in the country this month.
The country received one million doses of CoronaVac last June 6, and another one million last June 10.
All three shipments were flown by budget carrier, CEB.
"We are happy to keep supporting our government while aiding the private sector in this united effort to successfully vaccinate the Filipino population," said Alex Reyes, CEB's Chief Strategy Officer, in a statement.
He added that the carrier is committed to continue contributing to the national fight against Covid-19 through the safe and timely delivery of vaccines from abroad and across CEB's domestic network.
The vaccines were placed in temperature-specific refrigerated containers to maintain potency and efficacy up until arrival at the designated stations, according to CEB.
To date, the country has a total of 14,205,870 doses of vaccines against Covid-19. (PNA)