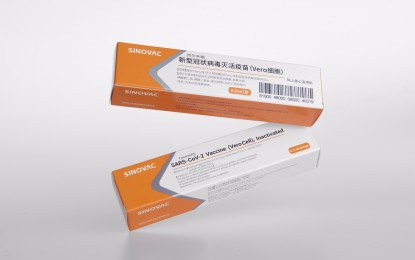 MANILA – A health official said Friday the Sinovac vaccine remains effective against severe symptoms of Covid-19 and deaths from the infection, amid detection of more infectious variants of SARS-CoV-2.
During an online media forum, Health Undersecretary Maria Rosario Vergeire assured the public that Covid-19 vaccines are still one of the keys to ending the pandemic, dispelling people's concern over Sinovac's supposed inefficiency.
"So, let's get the vaccine. Let's not be doubtful. Let's give that confidence [on vaccines] kahit may lumalabas na mga ganitong balita (even if there are reports like these)," Vergeire said.
Vergeire was referring to the cases in Indonesia where it was reported that more than 350 doctors have contracted Covid-19 despite being vaccinated with Sinovac and dozens have been hospitalized.
The officials said the outbreak may have been driven by the more transmissible Delta variant, first detected in India.
"Hindi po natin ikakaila na mayroon (We cannot deny that there's) breakthrough infections, that's what you call it when you're fully-vaccinated and you get infection," Vergeire said.
"Pero kailangan pa rin po natin malaman ang mga kumpletong datos para ma-analyze natin nang maigi (But we still need the complete data so we can analyze properly)," she added.
Vergeire noted that the report did not mention if the study has a control group.
Citing that there are 5,000 healthcare workers in the Indonesian hospital, Vergeire said 350 out of 5,000 workers would be only about 2 to 3 percent of the population.
"And that still leaves you with 97 percent effectiveness of this vaccine (Sinovac)," she said.
The Department of Health has emphasized that real-world studies show that all Covid-19 vaccines are effective in preventing severe infections and hospitalizations.
While some manufacturers have already reported on the effect of the new variants on the efficacy of their vaccines, there are companies, such as Sinovac Biotech, that are yet to release such information.
"But we know kasama na siya sa EUL [emergency use listing], maglalabas po 'yan (it is included in the EUL, it will release a report) in the coming days regarding its effectiveness against these variants," Vergeire said. (PNA)