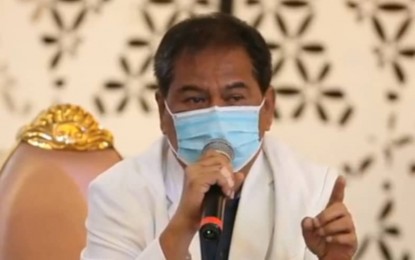 GENERAL SANTOS CITY – The medical community here appealed to the city government to implement a "hard lockdown" for at least 14 days to contain the continuing surge of community transmitted coronavirus disease 2019 (Covid-19) infections.
Dr. Fidel Peñamante, president of the Philippine Medical Association-General Santos chapter, said on Friday the stricter lockdown could help slow down the spread of the disease and eventually give hospitals and health care workers much-needed relief.
From 80 to 90 cases two weeks ago, he said the admitted patients in Covid-19 referral hospitals increased to 185 or have so far "doubled."
Peñamante said the Covid-19 fatalities have been also "piling up" in the past several weeks, with cases recorded almost daily.
"During the first wave last year, it took three months until we recorded 40 deaths. In the current wave, we reached that number in just one and a half months," he said in an interview.
As of 6 p.m. Thursday, the City Health Office reported a total of 574 active cases in the area, the highest among the 49 cities and municipalities in Region 12 (Soccsksargen).
The confirmed Covid-19 cases in the city since last year reached a total of 4,811, the second-highest in the region, and 4,085 recoveries.
Its cumulative 152 related deaths are the highest in Soccsksargen.
Peñamante said they are trying to avert the further spike of the current figures through the lockdown recommendation, which is equivalent to an enhanced community quarantine (ECQ).
"Last year, the cases were recorded just one after the other and mostly involved elderly and other vulnerable individuals. But now we have entire families testing positive," he said.
He challenged the local government, especially Mayor Ronnel Rivera, to make the right call regarding the situation.
Aside from the "hard lockdown," he said the city government should gather concerned sectors to a summit on Covid-19 and make them further understand the current situation.
"What are we supposed to do now? That will depend on how we value life. How many Covid-19 deaths can you bear while you are the mayor? How many people must die before you make that call," he said.
Meanwhile, Rivera said they have been continually evaluating the city's Covid-19 situation and making proper adjustments as necessary.
The city and the rest of Region 12 are under general community quarantine (GCQ) until the end of the month in the wake of the increasing infections.
But Rivera said residents might not be able to cope with another "hard lockdown" or a return to ECQ as many people are already reeling from the current strict GCQ.
"We are open to these recommendations but we have to balance it with our economy," he said. (PNA)