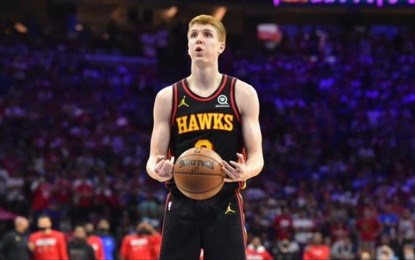 ANKARA – The Atlanta Hawks reached the 2021 NBA Eastern Conference finals after winning the semifinal series 4-3 with a 103-96 victory against top seeded Philadelphia 76ers on Sunday.
Hawks shooting guard Kevin Huerter scored 27 points to have a major contribution to his team at Wells Fargo Center, Philadelphia.
Trae Young displayed a dominant performance, scoring 21 points and making 10 assists for the Hawks.
Italian power forward Danilo Gallinari added 17 points for the Hawks.
Atlanta's John Collins racked up 14 points and 16 rebounds in the match.
Three Philadelphia players reached double digits in points section; Joel Embiid, Tobias Harris and Seth Curry.
Embiid was the game's top scorer with 31 points. He also had 11 rebounds. Harris tallied 24 points and 14 rebounds, while Curry added 16 points for the 76ers.
Philadelphia's Turkish shooting guard Furkan Korkmaz scored five points against the Hawks.
The Atlanta Hawks will play against Giannis Antetokounmpo-led Milwaukee Bucks in the best-of-seven Eastern Conference finals.
Suns take 1-0 lead
The Phoenix Suns star Devin Booker had an emphatic performance to help his team lead the Western Conference finals series 1-0 against the Los Angeles Clippers after a 120-114 victory on Sunday.
Booker, 24, posted his first career triple-double with 40 points, 13 rebounds and 11 assists at Phoenix Suns Arena.
Clippers forward-guard Paul George scored 34 points.
Suns GM honored
Meanwhile, the Phoenix Suns general manager won the basketball executive year award.
"NBA team basketball executives have selected Phoenix Suns General Manager James Jones as the winner of the 2020-21 NBA Basketball Executive of the Year Award," NBA said in a statement on Sunday.
In the 2020-21 regular season, Suns came in second in the Western Conference standings with a 51-21 win/loss record to directly qualify for this year's playoffs.
Jones, 40, is a three-time NBA champion; two with the Miami Heat in 2012 and 2013, and one with the Cleveland Cavaliers in 2016.
He has also played for the Suns, Indiana Pacers, Portland Trail Blazers, Miami Heat and Cleveland Cavaliers.
In 2017, Jones ended his 14-year NBA career as Suns hired him as the vice president of Basketball Operations.
In 2019, Jones was named the Suns' general manager. (Anadulo)