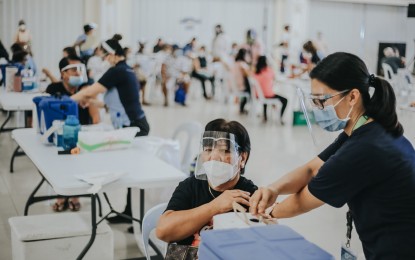 MANILA – Persons who refuse to be inoculated with Covid-19 vaccine should just leave the country, President Rodrigo Duterte said late Monday night.
In a pre-recorded meeting with Cabinet members, Duterte made this remark as he voiced "exasperation" over those who refused to get vaccinated.
"I'm just exasperated by Filipinos not heeding the government. E tutal dito wala tayong hangarin kundi kabutihan ng ating bayan (We don't have any intention except what is best for our nation)," he said.
Duterte said everyone should get vaccinated as it is the only solution to beating the Covid-19 pandemic.
"Kung hindi kayo magpabakuna, umalis kayo sa Pilipinas (If you don't want to get vaccinated, leave the Philippines). Go to India if you want, or somewhere to America. But for as long as you are here and you are a human being and can carry the virus, e magpabakuna ka (you should get vaccinated)," he added.
He also directed the Department of the Interior and Local Government (DILG) to identify and tally residents who refused to get vaccinated.
"Kayong mga (You) barangay captains, I'll task the DILG to do that, to look for these persons. Kung hindi (If not), I will order their arrest sa totoo lang (to be honest)," he said.
According to Duterte, individuals who refused to get vaccinated were "potential carriers" of Covid-19 and they put other lives at risk. He said they should serve jail time as punishment for defying the government.
"Because if you are a person na hindi ka (that is not) vaccinated, you are a potential carrier and to protect the people I have to sequester you in jail. Mamili kayo, magpabakuna kayo o ipakulong ko kayo sa selda (Choose, get vaccinated or get imprisoned)?" he added.
As of June 19, the government has administered 8,222,759 doses of Covid-19 vaccines. Of this number, 2,210,134 persons have been fully vaccinated. (PNA)