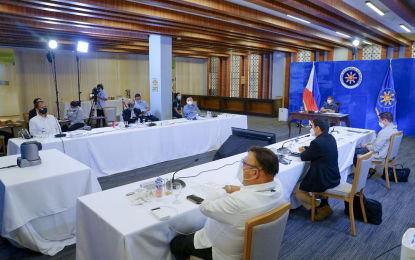 MANILA – President Rodrigo Duterte on Monday suggested using the unobligated funds under the Bayanihan to Recover as One Act (Bayanihan 2) to pay for facility-based quarantine of all returning overseas Filipinos (ROFs).
In his pre-recorded Talk to the People in Davao City, Duterte floated the idea of paying for the quarantine expenses of ROFs, noting that many of them came back home because they lost their jobs.
"Congress appropriated so much money for Bayanihan [2]. I think if may residual pa diyan naiwan (if there are some funds left), it behooves upon the government to pay for the sequestration expenses of every returning Filipino," he said.
Duterte assured that the government will prepare the accommodation of ROFs the soonest possible time.
"I am ordering now everybody including the government units i-hotel nila o ano man, babayaran ng national government 'yan (their hotels will be paid for by the national government). As to when there is money and we will do it as fast as we can," he said.
He said the Department of Social Welfare and Development (DSWD) and the Department of the Interior and Local Government (DILG) could hasten the process of ensuring all ROFs get proper accommodation during their quarantine period.
"Maybe the DSWD will take care of that or the DILG para mabayaran (so that it will be paid for). I will order to hasten para mawala yung (to remove the) dynamics about the expenses of keeping them in sequestration," he added.
In an earlier Palace press briefing, Presidential Spokesperson Harry Roque confirmed that PHP18.4 billion under the Bayanihan 2 remained unobligated.
Roque, however, said he has yet find out whether Duterte would call for a special session to extend the validity of the law.
Bayanihan 2 was extended until June 30 this year after it lapsed on Dec. 19, 2020. (PNA)