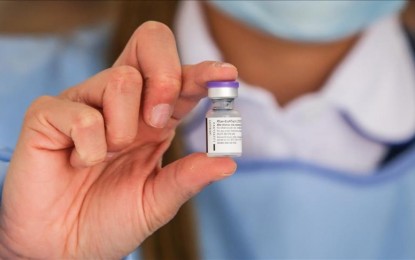 MANILA – The Philippines is set to receive more vaccine doses from the United States both through the COVAX Facility and direct donation, the US Embassy in Manila announced Tuesday.
This is after the Biden-Harris administration included Manila among the priority countries to receive a portion of the latest 55 million tranche of US government-donated Covid-19 vaccine doses.
"This is in addition to the Philippines' allocation under the previous June 3 announcement of the first 25 million US vaccine doses to be shared globally, as pledged earlier by President Biden to help end the pandemic," the embassy told reporters.
Approximately 16 million of the 55 million doses will be shared to Asia, including the Philippines, through COVAX Facility. About 14 million vaccine shots, meanwhile, will be shared "directly with friends, allies, and other recipients," also including the Philippines.
Part of America's allocation plan is to donate jabs from its domestic supply with an aim to serve as "an arsenal of vaccines for the world".
"Earlier this month, the Administration announced the plan for the first 25 million doses that we have begun shipping, and today's announcement completes the list for the remaining 55 million doses. For all of these doses, those most at risk, such as health care workers, should be prioritized, based on national vaccine plans," the White House said in a statement Tuesday.
On top of donating a portion of its own supply, Biden earlier announced that the US would purchase half a billion Pfizer doses and donate them to 92 low- and lower middle-income countries and members of the African Union.
"Sharing millions of US vaccines with other countries signals a major commitment by the US Government. Just like we have in our domestic response, we will move as expeditiously as possible, while abiding by US and host country regulatory and legal requirements, to facilitate the safe and secure transport of vaccines across international borders," the White House said.
"The specific vaccines and amounts will be determined and shared as the administration works through the logistical, regulatory and other parameters particular to each region and country," it added. (PNA)