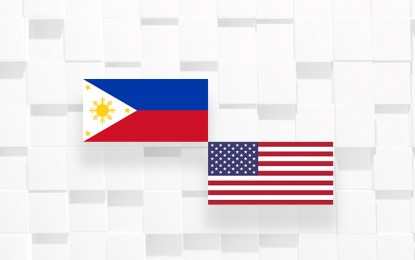 MANILA – Department of Trade and Industry (DTI) Secretary Ramon Lopez said the Philippines and the United States can further boost their economic ties through a free trade agreement (FTA).
During the virtual Philippines-United States business dialogue "Cooperation for Post-Pandemic Recovery" Tuesday, Lopez said while the country is waiting for the renewal of the Generalized System of Preferences (GSP) from the US government, the Philippine government hopes to push FTA discussions with the US.
"(W)e hope to strengthen our relationship beyond the GSP and graduate towards an FTA that would provide a long-term, rules-based, and predictable trade environment for our two nations," he said.
Lopez added the US remains an important trading and investment partner of the country.
The US is the country's third major trading partner, second largest export market, and fourth largest source of imports.
Despite being one of the top trading partners for the country, the Philippines has yet to have an FTA deal with the US.
The Philippines has benefitted from the GSP granted by the US, wherein 70 percent of the country's exports to the US enter with no tariff.
Aside from a bilateral FTA, the DTI chief is also looking forward to the two nations' participation in the Comprehensive and Progressive Agreement for Trans-Pacific Partnership (CPTPP), a free trade deal of 11 member economies of the Asia-Pacific Economic Cooperation (APEC).
Lopez has expressed the DTI's interest to re-explore opportunities in joining the CPTPP.
On the other hand, with the Biden administration, the US has renewed interest to reenter international agreements, including the CPTPP.
Lopez also cited that US companies' investments in the Philippines did not only create jobs but helped the country to move up the value chain.
"(T)he nature and quality of investments from American companies and the business partnerships being formed with local companies have helped move the Philippines up the value chain," he said.
Major American firms that established their operations in the country include ON Semiconductors, Concentrix, Procter & Gamble, Johnson & Johnson, Texas Instruments Inc., JP Morgan Chase, and Google Services Philippines Inc., among many others.
Moreover, US Chamber of Commerce senior vice president for Asia Charles Freeman said he wants to see more American firms setting up their facilities in the Philippines.
Freeman said the level of exports of US companies in the Philippines "is not where we should be given the competitive realities in the Asia Pacific now".
He added the Chamber continues to look into prospects in the country, particularly bringing in more opportunities in the supply chain. (PNA)