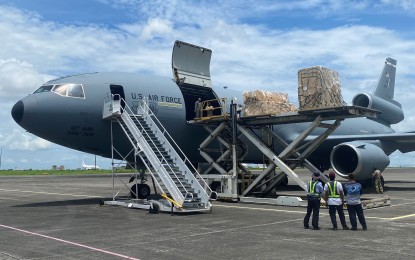 MANILA – The Armed Forces of the Philippines' (AFP) capability to neutralize terrorist groups and maritime security capabilities got a much-needed boost with the latest military assistance coming from the United States.
"With the assistance from our allies coupled with our government's relentless pursuit of modernizing the AFP, we are confident that our troops will be more capacitated to counter terrorists, conduct humanitarian assistance and disaster response, and in keeping watch over our territory," AFP chief Gen. Cirilito Sobejana said in a statement Wednesday.
On Monday, the AFP received defense articles from the Joint United States Military Assistance Group-Philippines (JUSMAG-P) at Clark Air Base, Pampanga.
The equipment worth PHP183 million (USD3.8 million) was funded by both Philippine national funds and US grant assistance.
The delivered items include communication equipment, personal protective equipment, .50 caliber heavy machine guns, 60mm mortars, night fighting, and other combat and support equipment.
The items delivered were mostly for counter-terrorism and enhancement of AFP's maritime security capabilities.
"We thank the United States through the JUSMAG-P for the continued support to our defense capability build-up," Sobejana said.
An additional batch of defense articles that are still part of US military assistance is expected to arrive early next month.
"The United States will continue to support the Armed Forces of the Philippines' capacity-building efforts through joint training and key military equipment transfers," JUSMAG-Philippines chief and senior defense official to the Philippines Col. Stephen Ma said earlier.
He added that mutual security collaboration remains a cornerstone of a free and open Indo-Pacific. (PNA)