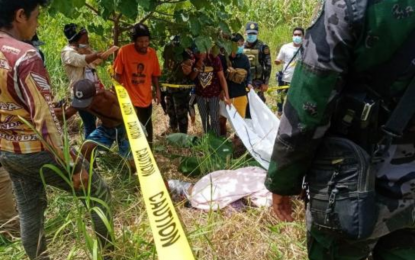 CAMP SIONGCO, Maguindanao – The military and police in Maguindanao have started investigating Wednesday an explosion in an upland village of Datu Hoffer town that left a pregnant woman dead and two children injured.
Maj. Gen. Juvymax Uy, commander of the Army's 6th Infantry Division, and Brig. Gen. Eden Ugale, police director for the Bangsamoro Autonomous Region in Muslim Mindanao, have directed their field units stationed in Datu Hoffer to identify the culprits behind the incident.
"The military and police are jointly looking into the case," Uy told reporters here referring to the 4 a.m. blast in Barangay Tuyuan.
Slain was Rosita Kenendi, 21, a member of the Teduray community in the village. She died from multiple shrapnel injuries.
Uy has declined to identify the two children hurt in the incident.
One of Kenendi's two children is now being treated at the Maguindanao provincial hospital, while the other who sustained minor injuries is staying with his father in an evacuation center, according to community leaders.
Ugale, meanwhile, has directed the Maguindanao provincial police and the Datu Hoffer police to cooperate in investigating the blast that took place near the victims' home.
"We have to get to the bottom of this case that has victimized innocent civilians," he said.
Military forces have been hunting down Islamic State-linked Bangsamoro Islamic Freedom Fighters (BIFF) since Sunday in mountain ranges near Datu Hoffer after both groups have clashed in nearby Guindulungan town, also in Maguindanao, which displaced several Teduray families.
Uy urged the public to prevent issuing statements that may escalate the tension in the area.
"The public is urged to avoid insinuations, investigation is ongoing," he said. (PNA)