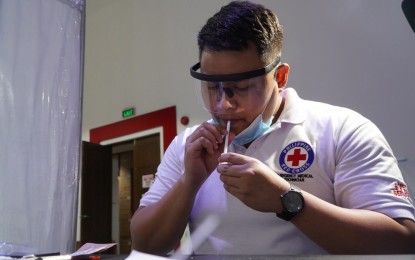 MANILA – The Department of Health (DOH) now has included the Philippine Red Cross' (PRC) saliva reverse transcription polymerase chain reaction (RT- PCR) test in all official laboratory results done in the Philippines.
The PRC, under the leadership of its Chairman and CEO Senator Richard Gordon, is the leading organization for Covid-19 testing. It is the only organization approved by the DOH to conduct saliva RT-PCR tests in the country.
The saliva RT-PCR test which is a cheaper, faster, and non-invasive test for Covid-19 is PCR based which is considered the gold standard for Covid-19 testing, according to the World Health Organization.
The PRC has so far tested a total of 3,307,946 that makes up 23 percent of the total tests done nationwide, while Detoxicare and Research Institute for Tropical Medicine only tested 831,191 and 534,472 respectively.
The Red Cross also partnered with the different shopping malls through its drive-thru collection sites to make it accessible to more people who want to get tested for Covid-19.
"We now have a total of 13 molecular laboratories capable of testing 46 thousand tests per day. As we expand our testing capacity, PRC will soon establish a new molecular laboratory in Cotabato to serve the city and its nearby provinces. The more people we test, the faster we can beat the virus. In this way, people can now safely go back to work and to their schools and we can open up the economy," Gordon said.
The PRC molecular laboratory in Subic recently celebrated its first anniversary where Gordon and other PRC officials attended virtually to show their support. (PR)