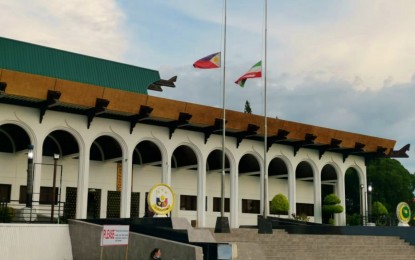 COTABATO CITY – The Philippine flag and the Bangsamoro flag are now flying at half-mast across the Bangsamoro Autonomous Region in Muslim Mindanao (BARMM) following the death of former President Benigno Simeon "Noynoy" Aquino III.
The 80-member Bangsamoro Transition Authority's (BTA) adoption of a resolution Thursday expressing sympathy and sincere condolences on the passing of the 61-year-old former chief executive.
BTA Speaker Pangalian Balindong said three resolutions were forwarded to the plenary and all recognized Aquino's contributions to peace and development in the Bangsamoro.
A united resolution said: "The BTA expresses its gratitude for selfless contributions on the pursuit towards peace and development in the defunct Autonomous Region in Muslim Mindanao and the current BARMM."
The BARMM lawmakers said Aquino backed the passing of Republic Act No. 10153, which synchronized ARMM polls with national elections, to pave the way for reform measures in preparation for the Bangsamoro transition.
He also pushed for the Mindanao peace process with the Moro Islamic Liberation Front (MILF) by hosting a meeting with Moro Islamic Liberation Front (MILF) chair now BARMM Chief Minister Murad Ebrahim on August 4, 2011, in Tokyo, Japan.
It was during Aquino's presidency that the Philippine government and MILF signed the Comprehensive Agreement on the Bangsamoro, which incorporated all GPH-MILF accords, including the Framework Agreement on the Bangsamoro and its four annexes, which completed negotiations that spanned 17 years.
The resolution also recognized Aquino's commitment to finding a solution to the Mindanao war that led to a significant breakthrough in the Bangsamoro peace process.
It also said Aquino "will be remembered as Chief Executive who laid the foundations of the current Bangsamoro government and initiated the many reforms in the entire Muslim Mindanao region." (PNA)