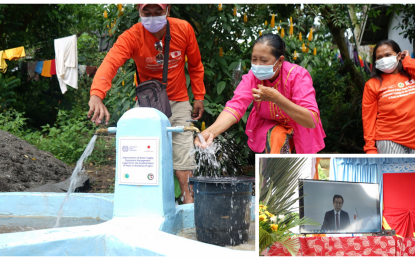 COTABATO CITY – Some 500 indigent residents of an upland South Upi town in Maguindanao stand to benefit from a water project courtesy of the International Labor Organization (ILO) and the Japanese government.
In collaboration with the Bangsamoro government and Ministry of Labor and Employment (MOLE), the ILO on Friday turned over a Level II Water System to the Looy Integrated Technical and Vocational High School (LITVHS) in the town's Barangay Looy.
A tree-planting activity was also conducted in the area on the same day.
Masahiro Nakata, the representative of the Japan Embassy in the Philippines, confirmed that Japan and the ILO have lined up a total of 11 water systems for the Bangsamoro Autonomous Region in Muslim Mindanao (BARMM).
The water projects form part of the Japan-Bangsamoro Initiative for Reconstruction and Development (JBIRD) program.
"Through JBIRD we aim to provide an enabling environment for the Bangsamoro communities and help them benefit from the dividends of peace," Nakata said in an online message.
"We envision Mindanao particularly the BARMM as a bedrock of peace development and stability," he added.
Nakata shared that the locals were hired to help do the job for them to have monetary income, especially the abled men and women of Barangay Looy.
ILO Philippines Director Khalid Hassan said the organization ensured that the fundamental principles and right working conditions, along with the livelihood of the Indigenous Peoples (IPs), were also promoted as an integral part of inclusive and sustainable development.
"We have brought water close to almost 500 households from a water source estimated to be seven kilometers away in a total of a nine-kilometer piping system that has been constructed," Hassan said.
"We are happy to know that 1,169 students in the area will also now have safe and clean water for drinking and washing any time of the day," he added.
MOLE Minister Romeo Sema, chairman of the project's advisory and review committee, made sure that the 250 laborers of the project, 75 of whom are women, were well treated and compensated.
Sema believes that access to clean water and decent livelihood could improve the level of the lifestyle of the IPs, noting that the Teduray people comprise 80 percent of the population of Barangay Looy.
Recently, the Japanese government, ILO, and MOLE also handed over the same water systems in the villages of Timanan, Rifao, and Renti, all in South Upi, and also in Wao, Lanao del Sur.
Similar projects will also be built in the other BARMM provinces of Basilan, Sulu, Lanao del Sur, and Tawi-Tawi. (PNA)