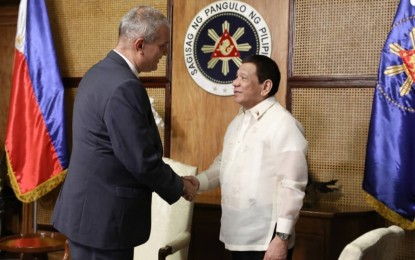 MANILA – The relations between the Philippines and Israel have grown stronger in the past three years, outgoing Israel Ambassador Rafael Harpaz said Friday as he concludes his tour of duty.
"I'm ending my term as the Israeli ambassador in this beautiful country with the bilateral relations between Israel and the Philippines stronger," the diplomat said.
"It's a wonderful country, Israel and the Philippines enjoy wonderful relations and we have special thanks to the tens of thousands of Filipinos in Israel who are taking such good care of our elders in Israel," he said.
He cited the engagement between the two nations at the height of the pandemic where Israel sent aid and even health experts to support Manila's response against coronavirus.
Israel's Honorary Consulate in Mindanao based in Davao City, Defense Attaché office, and Economic and Commercial Mission office were also opened amid the pandemic.
"The embassy is expanding, which is an indication of the demand for cooperation and established relations between our countries," Harpaz said.
Harpaz started his service in August 2018 as the Israeli Ambassador to the Philippines.
According to the Embassy, his first mission as the official escort of President Rodrigo Duterte during his historic visit to Israel in the same year brought significant developments in the fields of cooperation including economy, agriculture, tourism, among others.
Last week, Duterte hailed Harpaz's key role in ensuring humane and orderly treatment of the overseas Filipino workers in Israel and the implementation of bilateral agreements on the temporary employment of Filipino home-based caregivers and workers in the hotel sector.
Duterte also lauded his contribution to the "strengthened relations" between the two states, especially in the areas of defense, business and innovation, agriculture, and labor migration.
With several linkages established between various groups based in Israel and the Philippines, Embassy Chargé d'Affaires a.i. Nir Balzam said Harpaz's term was "very fruitful".
"Ambassador Rafael Harpaz's term was very fruitful. On behalf of the Embassy of Israel in the Philippines, we would like to thank him and wish him all the best in his future endeavors," the official said.
Last June 18, Foreign Affairs Secretary Teodoro Locsin Jr. also thanked Harpaz for his "significant contributions to the enhancement of Philippines-Israel bilateral cooperation".
Harpaz was conferred with the Order of Sikatuna, Rank of Datu (Grand Cross), Silver Distinction, by Duterte during his farewell call in Malacañang last June 16.
The Order of Sikatuna was awarded for Harpaz's significant contributions to the enhancement of Philippines-Israel relations. (PNA)