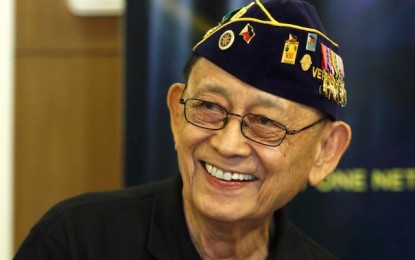 MANILA – Of the 7,420-strong Philippine Expeditionary Force to Korea (PEFTOK), who fought during the Korean War, 174 are still alive as of June 24, 2021, all in their '90s, including former President Fidel V. Ramos, and Maj. Maximo Young, one of only two Filipinos awarded the prestigious "Taegeuk Medal" (Medal of Valor), South Korea's highest military award for bravery in combat.
June 25 marks the 71st anniversary of the Korean War when thousands of Chinese and North Korean forces invaded South Korea.
Defense Undersecretary Ernesto G. Carolina, administrator of the Philippine Veteran Affairs Office (PVAO) in Camp Aguinaldo, Quezon City, furnished the Philippine News Agency (PNA) a list of the 11 oldest living Filipino Korean War veterans.
The oldest is retired Army Maj. Young, 98 years old, and still in good health as he does light exercise daily with ease such as walking around the house. He will turn 99 this coming October.
The 10 other living and oldest PEFTOK veterans are Maj. Sgt. Eleuterio S. Oplento, 97, Sgt. Amadeo P. Timbancay, 97, Sgt. Federico S. Sinagose, 96, Sgt. Luis A. Amor, 96, Sgt. Doroteo R. Viado, 95, Sgt. Miguel M. Villamor, 95, Sgt. Jaime M. Opena, 94, Sgt. Adriano B. Quevedo, 94, Sgt. Diego R. Ignacio, 94, and Gen. Fidel V. Ramos, 93.
Ramos, after he retired from the Armed Forces of the Philippines (AFP) as chief of staff, he was named defense secretary when he decided to run and won the presidency in 1992 as the 12th President of the Philippines.
The Philippines was second among 21 Allied Forces to receive two "Taegeuk Medals" (Medal for Valor), for bravery in combat during the Korean War.
Only 15 allied troopers were awarded the coveted "Taegeuk Medal" during the three-year war that broke out on June 25, 1950 and ended on July 27, 1953.
The United States topped the list with eight "Taegeuk Medals". The Philippines was second with two, and one each for Belgium, South Africa, Turkey, the United Kingdom, and Canada.
The two Filipino soldiers who were recipients of the coveted "Taegeuk Medal" were retired Maj. Maximo Young and the late Capt. Conrado D. Yap, both members of the famed 10th Battalion Combat Team (BCT) of the Philippine Expeditionary Force to Korea. (PNA)