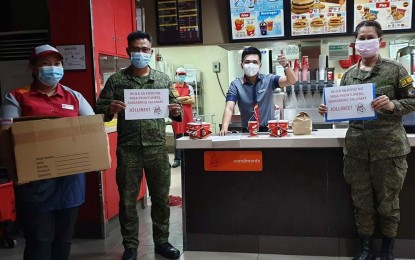 MANILA – The country's largest fast food chain is confident that economic recovery is underway this year and even stronger in 2022.
Jollibee Foods Corp. chairman Tony Tancaktiong said during the company's annual stockholders' meeting Friday that the company is "encouraged and confident that the Philippine economic recovery will be underway within 2021" with the increasing vaccination rate.
More than 8.5 million doses of Covid-19 vaccines were already administered in the country.
Tancaktiong said many of the employees of the Jollibee Group have been vaccinated through their respective local governments, but the company will also provide free Covid-19 vaccine to those who have yet to be inoculated as well as giving vaccine access to their dependents.
"Close to 90 percent of our employees will be vaccinated. We, in Jollibee Group, is one with the country's efforts in addressing the pandemic," he added.
With the firm's optimism in economic recovery this year, Jollibee Group chief executive officer Ernesto Tanmantiong said the company will be opening 450 stores this year, spending a record-high PHP12.2 billion.
Tanmantiong said its international business will drive the Group's expansion, especially in China, Vietnam, and North America.
"With the positive outlook for China and USA given their earlier recovery from the pandemic, and the Philippines' recovery underway as restrictions are lifted and vaccination rollout, we will accelerate our new stores expansion in the months ahead," he said.
The executive added that in 2022, Jollibee Group expects to open at least 500 stores similar to its expansion rate prior to the pandemic and even higher than 500 stores in the succeeding years.
"The global crisis made more apparent the advantages of the geographical diversification of our business. We continued to invest for long-term growth even amid the pandemic in countries that presented opportunities," Tanmantiong said.
Jollibee Group has 17 brands in 33 countries, with 5,815 stores worldwide as of end-May 2021. (PNA)