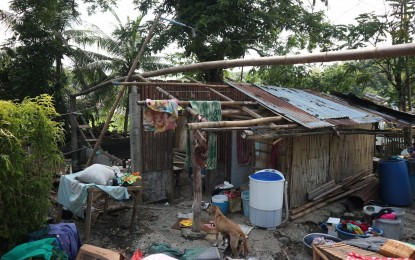 ILOILO CITY – The municipality of Lambunao is now preparing the housing assistance that will be provided to families whose houses were totally damaged by a tornado that recently hit 10 barangays.
Lambunao municipal disaster risk reduction and management (MDRRM) officer Albert Galan said that after the heavy rains with thunderstorm and lightning that was felt all over the municipality on June 25, a tornado was formed around 4 p.m. at the vicinity of Barangay Jorog and moved northeast towards Barangay Lanot Grande passing through eight other barangays.
"Sometimes due to the geographical location of Lambunao which is elevated, every time there are heavy rains and thunderstorms, there is a probability that they could create a tornado," he said in an interview Monday.
Affected barangays were Jorog, Legayada, Simsiman, Supoc, Cayan Este, Lanot Grande, Lanot Pequeño, Corot-on, Quiling, and Binabaan Portigo.
However, they are still verifying and assessing affected houses in Binabaan Portigo because the officials only reported Monday morning.
As of Sunday, 42 houses were affected; seven were totally damaged and the rest were partially damaged.
He said most of the houses were made of light materials.
One family composed of five individuals in Barangay Jorog is currently staying in an evacuation center.
Galan said those with totally damaged houses will be provided with 14 pieces of galvanized iron (GI) sheets, GI wire, and a kilo of nails.
"We will give assistance in kind so the rehabilitation and repair of their houses will be faster," he said.
Those with partial damage will receive relief goods and probably the cost of labor for the rehabilitation.
The support will be turned over to the affected families on June 29.
He added they are also waiting for the damage the tornado has caused to agricultural farms planted with corn and palay.
Galan said it was the first time that he had seen such devastation by a tornado, especially since Iloilo has no tornado alley or path.
A tornado sometimes occurs once or twice a year in Lambunao but only in selected areas. (PNA)