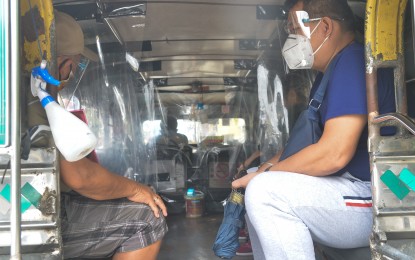 MANILA – The OCTA Research Group on Monday said the National Capital Region's (NCR) average daily number of new coronavirus disease 2019 (Covid-19) cases over the past seven days decreased by 9 percent.
Its latest monitoring report showed the infections for the period of June 14 to 20 decreased to 667 new cases per day from 731 per day.
"This corresponds to an ADAR (average daily attack rate) of 5.07 per 100,000. An ADAR less than 5 per 100,000 means the NCR is classified as a moderate-low risk area," OCTA said.
The positivity rate in the NCR remained at 7 percent over the past week with 36 percent hospital bed occupancy, 45 percent intensive care unit (ICU) bed occupancy and 32 percent mechanical ventilator occupancy -- all within safe levels.
"Navotas, San Juan, and Pateros had the fewest new cases per day, at less than 10 per day. Navotas also had the lowest ADAR at 1.93.
Six other LGUs in the NCR also had an ADAR of below five per 100,000, which classifies these LGUs as moderate-low risk areas. These are Caloocan at 2.66, Marikina at 3.37, Malabon at 3.57, Valenzuela at 3.72, Quezon City at 3.98, and Manila at 4.07.
The increasing trends among LGUS outside NCR have also slowed down and many LGUs showed one-week negative growth rates, including Bacolod, Iloilo City, Cagayan de Oro, Baguio City, Tacloban, Tagum, and Zamboanga City.
Meanwhile, hospital bed utilization rate (HBUR) was at critical level or 88 percent in Tacloban, while HBUR was high in Davao City at 93 percent, Iloilo City at 96 percent, Butuan at 73 percent, Cagayan de Oro at 74 percent, and Baguio City at 73 percent.
ICU utilization rates (ICUR) were at a critical level in Davao City, 93 percent; Iloilo City, 96 percent; General Santos, 86 percent; Koronadal, 100 percent, and Cabuyao, 86 percent.
Meanwhile, ICUR were at a high level in Bacolod at 76 percent; Cagayan de Oro at 71 percent; Baguio City at 70 percent; Tacloban at 80 percent; Tagum at 82 percent; Zamboanga City at 72 percent; and Batangas City at 78 percent.
The OCTA said the NCR Plus would benefit from remaining under the general community quarantine (GCQ) status.
It based its recommendation on the less than 4 percent ADAR, less than 5 percent positivity rate, low vaccination coverage, and the state of Covid-19 in the regions surrounding the NCR.
"We must prevent an NCR plus rebound surge. We can do this by continuing initiatives to expand testing, tracing, and isolation as well as by ensuring strict border controls to prevent the transmission of the virus within and among provinces," it added.
The group also recommended for the country to be "Delta-ready" with the national government, LGUs, and the private sector working together to expand testing, tracing and isolation, and improve biosurveillance nationwide.
It also advised about ensuring safe workplaces and strict border controls to prevent the entry of the Delta variant and acceleration of the implementation of the NCR+8+10 vaccine deployment program. (PNA)