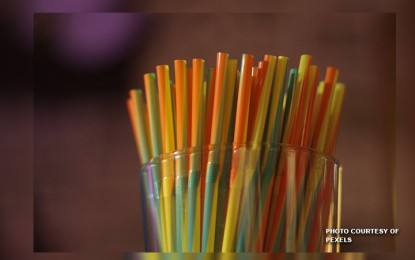 MANILA – Efforts are underway to fast-track the signing of the draft National Solid Waste Management Commission (NSWMC) resolution phasing out plastic coffee stirrers and softdrink straws nationwide for being non-environmentally acceptable products (NEAPs).
The draft of the country's initial NEAP list is already being hand-carried to heads of NSWMC member-agencies for their signing even if the Covid-19 pandemic is still affecting the country, noted Undersecretary Benny Antiporda who also serves as Department of Environment and Natural Resources (DENR) Secretary Roy Cimatu's alternate in the commission.
"We hope they'll sign the document before the end of July," Antiporda said Monday during a virtual press conference.
If that happens, he said stakeholders in the industry of plastic coffee stirrers and softdrink straws will have a one-year grace period to phase out these items.
He provided the update on the draft resolution amidst reports marine conservation group Oceana Philippines is threatening to sue NSWMC for allegedly being remiss in implementing Republic Act 9003 (Ecological Solid Waste Management Act of 2000) which requires preparation of the NEAP list.
"We welcome that group's notice to sue," he said.
Antiporda said he is optimistic the Oceana's notice will serve as motivation for seriously addressing the country's solid waste problem.
According to RA 9003's implementing rules and regulations, NEAPs are "products or packaging that are unsafe in production, use, post-consumer use, or that produce or release harmful products."
The NSWMC must annually review and update the NEAP list, the law added.
"That's in the law but it wasn't done until now," Antiporda said.
He said Department of Science and Technology (DOST) is already studying several plastic items for possible inclusion in the list which already covers plastic straws and coffee stirrers.
RA 9003 established NSWMC, designating 14 public sector representatives and three private sector representatives as members of the commission.
"The government sector shall be represented by the heads of the following agencies in their ex officio capacity: DENR; Department of the Interior and Local Government; DOST; Department of Public Works and Highways; Department of Health; Department of Trade and Industry (DTI); Department of Agriculture; Metro Manila Development Authority; League of provincial governors; League of city mayors; League of municipal mayors; Association of barangay councils; Technical Education and Skills Development Authority; and Philippine Information Agency," RA 9003 said.
The NSWMC's private sector members, according to the law, are a "representative from non-government organizations (NGOs) whose principal purpose is to promote recycling and the protection of air and water quality; a representative from the recycling industry; and a representative from the manufacturing or packaging industry."
RA 9003 designated the DENR Secretary and a private sector representative as NSWMC's chairperson and vice-chairperson, respectively.
Cimatu, DTI, and the NGO representative already signed the draft resolution, Antiporda said.
Not all NSWMC members need to sign such draft for the phaseout of plastic straws and coffee stirrers to be mandatory nationwide, he added,
He said the government will implement the phaseout if majority of NSWMC will sign the draft.
Preparation of the NEAP list is long-overdue as RA 9003 ordered NSWMC to do so within one year from effectivity of this law.
The NSWMC must prepare the list in consultation with stakeholders concerned, however, RA 9003 clarified.
RA 9003 also prohibits banning NEAPs unless NSWMC first finds alternatives available to the public at costs that are not more than 10 percent higher than corresponding prices of items these will replace.
The law likewise said that "notwithstanding any other provision to the contrary," its section on NEAPs "shall not apply to (a) Packaging used at hospitals, nursing homes or other medical facilities; and (b) Any packaging which is not environmentally acceptable, but for which there is no commercially available alternative as determined by the Commission." (PNA)