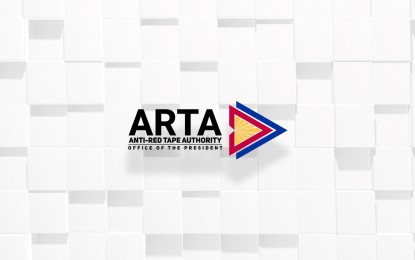 MANILA – Heeding the call of President Rodrigo Duterte to reduce time when transacting with any public offices, the Anti-Red Tape Authority (ARTA) has vowed to continue reforms to ease doing business and cut too much bureaucracy in all government agencies and local government units (LGUs).
The ARTA said one of its initiatives to ease doing business is streamlining processes in getting permits and licenses through the Central Business Portal (CBP) launched early this year.
CBP is a single digital platform for business registration in the country.
The CBP is currently in its first phase with Securities and Exchange Commission (SEC), Bureau of Internal Revenues (BIR), Social Security System (SSS), Pag-IBIG, PhilHealth, and 18 cities and municipalities initially onboard the platform.
"This reduced the length of days for registering a business from 33 days and 13 steps to only three days," ARTA said in a statement.
In his first State of the Nation Address (SONA), President Rodrigo Duterte ordered a reduction in the number of days and steps for government transactions.
"Processing time in issuing permits and licenses shall be reduced to the barest minimum," Duterte said during the 2016 SONA.
Another policy of ARTA that will further ease doing business with the government is the electronic Business One-Stop Shop (e-BOSS) mandated in all LGUs starting last June.
Transactions in e-BOSS include electronic application, electronic tax bill or order of payment, e-payment, releasing of e-permits, e-licenses, and e-clearances, and a gateway facility linked to courier services if the applicants prefer hard copy of the documents.
According to ARTA, 580 out of around 1,600 LGUs nationwide have their own e-BOSS using the Department of Information and Communications Technology's (DICT) Integrated Business Permits and Licensing System (IBPLS).
But ARTA said there are LGUs that are doing online transactions using other software aside from the IBPLS.
ARTA director general Jeremiah Belgica said these efforts also aim to help micro, small and medium enterprises (MSMEs) amid the coronavirus disease 2019 pandemic.
"All efforts and assistance for MSMEs are a significant step forward in terms of the ease of doing business in the country and the nation's long-term and inclusive recovery," Belgica said.
Aside from MSMEs, the anti-red tape body has helped in accelerating the approval of permits and licenses in the telecommunications sector to facilitate faster internet connectivity in the country.
Telco towers
Duterte, in his SONA last year, directed telecommunication firms to improve their services by December 2020, or else their businesses will be shut down.
ARTA then issued a Joint Memorandum Circular (JMC) that automatically approves all pending applications for common towers with LGUs.
"At least 26,636 pending permits for telco companies have been released since the JMC was signed as of writing," ARTA said.
It added that the government also relaxed the number of required permits for the construction of telco towers—from 30 to eight required permits; from 86 to 35 documentary requirements; and from processing time of 241 days to only 16 days.
"Our efforts especially benefit ordinary players and small business people, as we push for service efficiency for all," Belgica added.
Cutting red tape
Aside from streamlining processes in the government, ARTA vows to fight corruption inside and outside public offices.
Recently, ARTA nabbed a fixer outside the headquarters of the Land Transportation Office (LTO) offering his illegal service of fast-tracking license renewal to ARTA deputy director general Carlos Quita.
Earlier, Belgica said the fixer is taking advantage of the public's impression that the government services remain slow and with a lot of bureaucracy.
"Red tape is one of the root causes of corruption. With this, the Authority is taking various measures to eliminate the government's old and bureaucratic systems," the ARTA chief said.
Another entrapment operation done by ARTA along with Criminal Investigation and Detection Group (CIDG) is against a fixer, who worked as a janitor, at BIR Lipa City, Batangas.
The two entrapment operations were done only this month.
Last May, ARTA issued a show-cause order to the director of Food and Drug Administration Center for Drug Regulation and Research for not taking action on drug applications submitted by pharmaceutical firms, wherein some of the applications were filed seven years ago.
Some 408 drug applications received their automatic renewal.
A JMC with the Department of the Interior and Local Government and Department of Finance was also released last April ordering all LGUs to stop separately collecting fees and taxes from truckers.
To boost its fight against corruption, ARTA has strengthened its partnership with the Presidential Anti-Corruption Commission (PACC).
ARTA joined PACC and the Union of Local Authorities of the Philippines last May in the "Kasangga: Tokhang Kontra Korapsyon" program that targets to eliminate corruption and promote good governance in the country. (PNA)