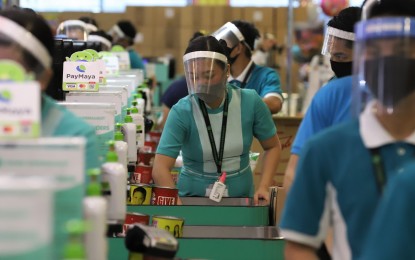 MANILA – The country's top economic managers said the easing of the unemployment rate and the generation of quality jobs for May this year point to improving economic conditions.
The Labor Force Survey for May 2021 showed that the unemployment rate in May 2021 eased to 7.7 percent from 8.7 percent in April, while underemployment fell to its lower rate since 1987 at 12.3 percent.
"These significant improvements point to an economy on the mend. As the economy was further reopened in the second half of May, more Filipinos were able to rejoin the labor force and earn sufficient income, as indicated by the lower underemployment rate," Socioeconomic Planning Secretary Karl Kendrick Chua, Finance Secretary Carlos Dominguez, and Budget and Management Secretary Wendel Avisado said in a joint statement Thursday.
The economic managers added that 1.5 million jobs were created between April and May this year.
"Following the trend of recovery from the previous months, total employment remains above pre-Covid-19 (coronavirus disease 2019) levels with a net job creation of 2.2 million since January 2020," they said.
They are also optimistic that the National Employment Recovery Strategy (NERS) and the faster rollout of the Covid-19 vaccination program will support the government's target to grow the economy by 6 to 7 percent this year.
Some 829,662 economic front-liners under the A4 priority group have received their first dose of Covid-19 jab since the list was expanded last May 27.
"We encourage local government units and establishments to coordinate on setting up vaccination facilities in workplaces. This will accelerate vaccine deployment and give our workers the confidence to go out and earn a living while keeping their families safe," they added.
The economic managers also encourage everyone to get vaccinated and continue to follow minimum health protocols in order to avoid another surge in Covid-19 cases, which will pose a threat of another round of stringent community quarantine measures.
"By getting vaccinated, each one can help restore the opportunities taken away by the pandemic. Let us continue working together to collectively achieve a strong recovery in 2021," they said. (PNA)