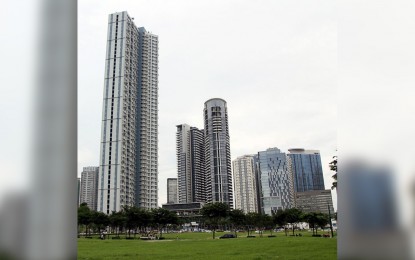 MANILA – A lawmaker said Thursday a "true stimulus" program through the passage of Bayanihan 3 or the proposed Bayanihan to Arise as One Act is necessary to boost job creation and economic growth as the pace of the coronavirus disease 2019 (Covid-19) vaccination gains momentum.
Albay Rep. Joey Salceda said the improving vaccination rate, with almost 7 percent of the population receiving their first dose of Covid-19 vaccines, would strengthen job creation.
Salceda said an economic stimulus package would be more effective, more so now as Filipinos, who are better protected from the virus, would likely go out and return to more activities.
"I am also convinced that as vaccination rates further improve, it will be strategic to embark on a true stimulus program. When people are able to go out of their homes and do more activities, the impact of economic stimulus will be more effective. The first two Bayanihan packages were not stimulus. They were merely rescue packages," he said.
Salceda noted the third Bayanihan installment must be paired with an aggressive credit stimulus plan for business recovery and new business development.
The lawmaker from Bicol said he has already asked government financial institutions to put action plans and facilities in place towards recovery.
"More, better, and more durable jobs will come from the creation and expansion of new businesses, and the recovery in aggregate demand," he said.
He said while the jobs figures in May are a positive development, many jobs remain fragile and contingent on recovery support.
Salceda cited that the unemployment rate decreased from 8.7 percent in April 2021 to 7.7 percent in May 2021.
The underemployment rate, he said, also fell from 17.2 percent in April to 12.3 percent in May.
Meanwhile, the labor force participation rate increased from 63.2 percent in April to 64.6 percent in May.
He estimated that 1.5 million jobs were created between April and May 2021.
Total employment continues to exceed pre-Covid-19 levels with net job creation of 2.2 million since January 2020, he added.
"These are good employment numbers, but the quality and resilience of these jobs is what will determine the durability of our signs of recovery," Salceda said.
The Philippine Statistics Authority (PSA) reported that the Philippines logged its second-lowest unemployment rate in May 2021 amid the pandemic.
"This is due to lesser restriction. Of course, we saw in the National Capital Region (NCR) we have lesser restriction in May compared to April 2021," National Statistician and Civil Registrar General Dennis Mapa said in a press conference on Tuesday.
The NCR and its four neighboring provinces Bulacan, Cavite, Laguna, and Rizal, collectively called NCR Plus, were under enhanced community quarantine (ECQ), the most stringent quarantine measure, in April when there was a surge in coronavirus cases. Restrictions in the NCR Plus started to relax in May.
In May, 410,000 jobs were added to the labor market since ECQ was lifted, Mapa said.
Labor force participation also increased in the NCR, Region 3 (Central Luzon), and Region 4-A (Calabarzon).
He said five major industries had the largest increase in employment in May – wholesale and retail trade; repair of motor vehicles and motorcycles, agriculture and forestry, public administration and defense; compulsory social security, construction, and other services activities. (PNA)