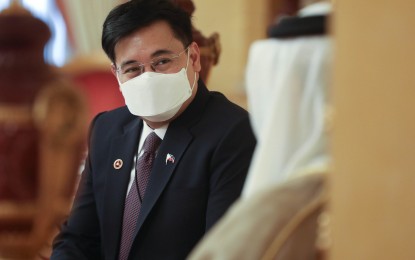 MANILA – The King Faisal Center for Research and Islamic Studies (KFCRIS) will open its doors to Filipino scholars who want to pursue scholarly works in Islamic research and studies.
The center conveyed its readiness to accept Filipino scholars during the visit of Presidential Assistant on Foreign Affairs and Special Envoy Robert E. A. Borje, who underscored the importance of enhancing academic and people-to-people exchanges between the Philippines and Saudi Arabia.
During the recent meeting with Borje, King Faisal Center for Research and Islamic Studies Secretary General Turki Bin Mohammed Al-Shuwaier said he hopes to forge more tie-ups with the institutions of higher learning in the Philippines, including those in the Bangsamoro Autonomous Region in Muslim Mindanao (BARMM).
Borje's visit is an important opportunity for Saudi Arabia to work with the Philippines, Al-Shuwaier said.
He expressed his gratitude to the Saudi official for opening opportunities to Filipino students who want to pursue academic endeavors with the prestigious center.
Enhanced collaboration on education, research and culture between the two countries is part of President Rodrigo Duterte's thrust of forging multi-dimensional relations with Saudi Arabia, he added.
Borje visited the King Faisal Center for Research and Islamic Studies to pay respect to the Kingdom's Islamic heritage, values and identity and honor the enduring ties between the Philippines and Saudi Arabia.
The center serves as an important resource for academics, intellectuals, artists and others with an interest in Islamic history and culture, including many Filipino Muslims, and a valuable platform for research and scholarly work highlighting the contributions and roles of Muslim societies in the humanities, the social sciences, literature, the and arts throughout history and in the contemporary world.
During the visit, Borje was received at the center by Al-Shuwaier, Vice President Abdulaziz Al-Shuwaier, Dr. Fahad Al Sharif, and Researcher Kameal Alahmad.
Accompanying the Special Envoy were Philippine Ambassador to Saudi Arabia Adnan Alonto and Consul General Rommel Romato.
The visit to the center is part of a string of activities for the Special Envoy's official visit to Saudi Arabia from June 19 to 24 this year. (PND)