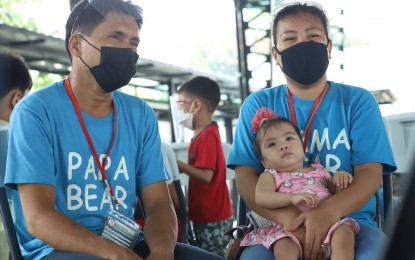 MANILA – Despite the odds that pushed them to go back to Ormoc, a family of seven happily looks forward to the future at home.
Balik Probinsya, Bagong Pag-asa (BP2) program beneficiaries couple Felix and Tess Retoya caught the Philippine News Agency's attention with their blue couple shirts printed with "Mama Bear" and "Papa Bear" while they were waiting to board the bus that took them to the airport on Friday.
While most of the 32 beneficiaries were silently undergoing the pre-departure process, the Retoyas were happily bantering with their five children at the BP2 depot in Quezon City.
The coronavirus disease 2019 (Covid-19) pandemic took its toll on the Retoya family.
After Felix gave up his job as a welder in a construction company due to drastic pay cuts, it became difficult to sustain life in Metro Manila.
"Sobrang hirap kasi nawalan ng trabaho 'yung asawa ko. Tapos nangungupahan kami, hirap pati kami sa pagkain (It was very difficult because my husband lost his work. Then we need to pay the rent and even the food has become a problem)," Tess narrated.
Felix used to earn enough for his family and returning to the province never crossed their minds.
Not until the pandemic came and lockdowns were imposed.
Felix's workload was reduced to half, the overtime pay was gone, and the salary was paid in installments.
He decided to resign and shifted to selling dirty ice cream.
The income was good only during the dry months. As soon as the wet season started, sales dried up.
Balik Probinsya benefits
When Felix heard of the BP2 program of the national government, he talked his wife into availing of it.
Tess agreed for the sake of their children.
"Mahirap kasi nakikita mo silang me gustong kainin tapos minsan kulang 'yung pagkain. Sobrang sakit na sa magulang na makita ang mga anak na ganun ang sitwasyon (It was very painful when sometimes, they wanted to eat a certain food but we didn't have enough. It is very painful for parents to see their children in that situation)," she said.
Tess recounted that whenever one of the children got sick, she would ask for medicines from the health center as they did not have money.
There were also days that the children had to miss online classes because they did not have the budget to buy data load for their gadgets.
The eldest, Felmar, 14, had hesitations at first because he was already used to life in Metro Manila.
But the thought of seeing his grandmother and the hardships they experienced made him change his mind.
"Nawalan kami ng pagkain noon. Wala na kaming pera tapos mahirap 'yung trabaho ni papa (We did not have enough food. We did not have enough money because my father lost his job)," Felmar said.
He said it was sad to see his parents in such a situation. Since he can do nothing to contribute to the income, he helped by cleaning the house and taking care of his siblings.
Dreams
Felmar wants to be an engineer someday and as soon as he finishes college, he vows to go back to Manila to work.
Tess said she is positive life will be better in Ormoc because of government support.
They will undergo training on agriculture and the related businesses she can start with.
"Masaya ang pamilya ko doon. Excited nga eh. Panay ang tawag. Kelan kayo uuwi? Kelan kayo aalis dyan (My family is happy and excited. They were always calling, asking us when are we arriving. When are you leaving Manila)?" Felix said.
The couple, who has been married for 15 years, believes that no challenge is difficult if there is love, respect, and understanding within the family.
They are thankful for the BP2 program as they will never be able to shoulder the travel expenses to Ormoc.
"Maraming, maraming salamat dumating itong programang Balik Probinsya. Dahil dito malaking tulong na makaka-uwi kami ng probinsya. Maraming, maraming salamat (We are very thankful for the Balik Probinsya program. This is a big help for us. We can now go home to the province. Thank you very much)," Felix said. (PNA)