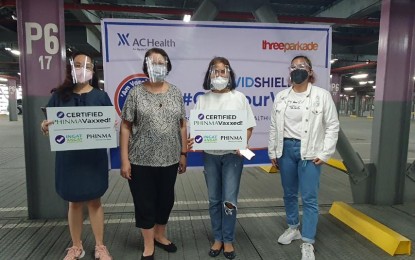 MANILA – PHINMA Group has started the coronavirus disease 2019 (Covid-19) immunization for its employees, supporting the government's target to achieve population protection before the year ends.
On Monday, the company launched PHINMAVax, its own vaccination program, giving free Covid-19 jabs to its employees across all of its business units in construction materials, education, hospitality, and property development.
"Vaccinating our employees is part of our shared responsibility in keeping everyone safe from Covid-19. We have secured 26,000 doses for PHINMA Group employees, which we have extended to their dependents, and even to our partners and service providers all over the country," PHINMA president and chief executive officer Ramon del Rosario said in a statement.
Del Rosario said the firm has also allotted vaccines for vulnerable sectors in need of additional jabs.
PHINMA secured 20,000 doses of Moderna vaccines and 6,000 doses of AstraZeneca vaccines.
"The success of our national vaccination program relies heavily on the cooperation of every Filipino—with at least 70 million of our population getting vaccinated as soon as possible. Through PHINMAVax, we offer a safe and reliable inoculation option as we leverage robust systems developed by our partners in the private and public sector to ensure additional protection for our people all over the country," del Rosario added.
PHINMA is also partnering with local government units of Manila, Makati City, Mandaluyong City, Pasay City, Quezon City, Cabanatuan City, Dagupan City, Cebu City, Iloilo City, Cagayan de Oro City, and the regional office of the Department of Health in Region 7 for the vaccine rollout of PHINMA employees who are part of the A4 priority group.
"Here at PHINMA, protecting our people is a priority especially under these extraordinary circumstances. It has been said by medical experts that the best protection against Covid is the vaccine in the arm. We want our employees to make an informed decision as soon as the vaccination option becomes available to them," PHINMA chief operating officer Chito Salazar added.
Earlier, Trade Secretary Ramon Lopez said the vaccination of the A4 group, or the economic front-liners, was the much-awaited "shot in the arm" for economic recovery.
"We are really giving support to the backbone of our economy, our workers. So this is really a shot in the arm to the economic front-liners, a shot in the arm to our economy. And this is really what we need as we are trying to continuously reopen," Lopez said. (PNA)