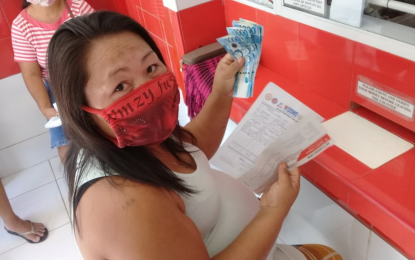 MANILA – StarPay Corporation has refuted the allegation of Senator Manny Pacquiao on anomalies in the implementation of the government's Social Amelioration Program (SAP).
The private financial service provider (FSP) said the senator relied on "unverified data" to back up his argument that there was misuse of the SAP, the financial assistance program for those hardest-hit by the coronavirus disease 2019 (Covid-19) pandemic.
In a statement released Monday night, StarPay also clarified that it complied with requirements to secure an electronic money issuer (EMI) license from the Bangko Sentral ng Pilipinas (BSP) in 2017.
The required capitalization to apply for an EMI license is PHP100 million.
"Senator Pacquiao's statement during his press conference (July 4) that our current capitalization is PHP62,000 is incorrect, while the correct and accurate figures are easily verifiable with the Securities and Exchange Commission," the firm said.
In June 2020, StarPay signed a multilateral agreement, along with five other FSPs identified by the BSP with the capacity for the rollout of the SAP aid.
StarPay also returned to the Land Bank of the Philippines account of the Department of Social Welfare and Development (DSWD), the agency in charge of the SAP aid, the undistributed fund amounting to PHP8.239 billion.
"We were initially assigned regions where the key consideration was the availability of our partner outlets numbering to about 6,000 nationwide. With this, we were awarded coverage of about 1.6 million beneficiaries," the group said.
The distribution was made through StarPay's online and offline distribution models, where beneficiaries without smartphones were given reference numbers to claim their amelioration at their own time and convenience.
It ensured that despite lockdowns and social distancing concerns, beneficiaries could still claim their aid in a safe and effective manner.
The corporation also noted 1,615 complaints which were already resolved. This figure was just 0.03 percent of the total number of served beneficiaries.
After FSPs liquidated the budget and refunded the amount for the unserved beneficiaries, DSWD terminated their services as manual payouts were conducted.
DSWD Secretary Rolando Bautista, in a virtual briefing on Monday, wondered where the senator sourced his data, which did not match theirs.
Pacquiao earlier questioned why StarPay reflected just 500,000 downloads while there were 1.8 million beneficiaries declared.
Hours after his online media and supposed tell-all briefing, the boxing champion left for Los Angeles to start training for his August 22 (Philippine time) bout with the unbeaten Errol Spence Jr.
He will miss at least one month of his Senate duties, a fact that Blue Ribbon committee chair Senator Richard Gordon finds strange as Pacquiao wants an inquiry even if he is not around to witness or tackle his exposé. (PNA)