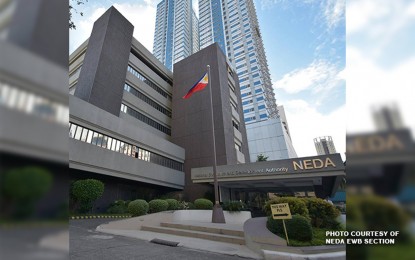 MANILA – Policy interventions to stabilize commodity prices have begun to take effect as headline inflation decelerated in June 2021, the National Economic and Development Authority (NEDA) said.
The Philippine Statistics Authority (PSA) reported Tuesday that headline inflation rate slowed down to 4.1 percent, bringing year-to-date inflation still at 4.4 percent.
This came after three months of a steady 4.5 percent inflation rate from March to May 2021. This is also the lowest inflation rate recorded since December 2020.
"Recent policies to increase food supply are beginning to bring down inflation. Rest assured that the government will continue to address constraints in the availability and movement of goods amid quarantine restrictions to ensure that households have access to affordable food," Socioeconomic Planning Secretary Karl Kendrick Chua said in a statement.
Food inflation remained at 4.9 percent in June 2021 with the faster inflation in fish tempered by slower inflation in other food items including rice, vegetables, and meat.
Meat inflation decelerated to 19.2 percent in June 2021 from a high of 22.1 percent recorded in April and May 2021.
Month-on-month meat inflation also continued to decline at -0.3 percent from -0.1 percent.
"The declining meat inflation points to the positive effects of Executive Orders (EO) 133 and 134. These are expected to further bring down meat prices during the second half of the year," Chua said.
With the spike in pork prices resulting from the African swine fever (ASF) outbreak that significantly reduced domestic pork production, President Rodrigo R. Duterte declared a one-year state of calamity on May 10, 2021.
This allowed LGUs to access their calamity funds and realign resources to help the hog industry.
Other government interventions include hog repopulation programs, food safety and ASF-zoning, and ASF vaccine development.
To complement efforts in boosting pork production and containing the ASF, the government adopted EO 133, which increased the minimum access volume (MAV) for imported pork, and EO 134, which imposed a temporary reduction of pork tariffs.
Meanwhile, to ensure stable rice supply, President Duterte also issued EO 135 to temporarily reduce the most favored nation (MFN) tariff rates on imported rice to 35 percent from 40 to 50 percent.
This allowed the country to diversify its market sources, expand rice supply, and further bring down rice prices.
"In managing inflation, our priority will be to continue improving our domestic production and providing needed support to our farmers and producers. When necessary, we will augment supply with importation to keep prices stable and to guarantee food security. This balancing act will help us better manage the impact of inflation on the people and the economy," Chua said.
Transport inflation also continued its downtrend at 9.6 percent in June 2021 from 16.5 percent in May 2021.
However, the costs of transport services remain elevated primarily because of social distancing measures and the recovery of global oil prices. This is expected to partially decrease in the near term with the government's accelerated vaccination program.
"Keeping transport expenses low complements our efforts to safely bring people to their workplaces. We are accelerating the vaccination of the A4 priority group of workers to keep them and their families protected as they earn a living. These efforts will help the economy recover strongly in 2021," Chua added. (PR)