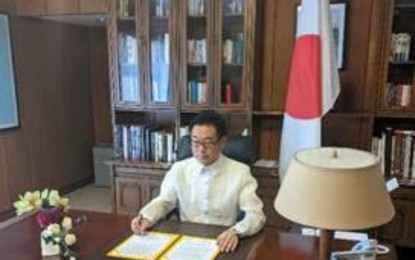 MANILA – The Japanese government signed on Tuesday the 687 million yen (approximately PHP308 million) grant aid to provide the country much-needed cold chain transport and ancillaries for its vaccine rollout.
Ambassador Koshikawa Kazuhiko signed and exchanged notes with Foreign Affairs Secretary Teodoro Locsin Jr. for the Japanese grant assistance called "Programme for Covid-19 Crisis Response Emergency Support," to be implemented across the country.
"With the distribution of vaccines to the provinces a top priority of the Philippine Government, the cold chain facility system will boost efforts in the nation's vaccination program. This will not only ensure safe and efficient vaccines delivery but also preserving the integrity and quality of vaccines," the Japanese Embassy in Manila said in a statement.
The signing came on the heels of Tokyo's announcement to donate one million doses of AstraZeneca vaccine manufactured in Japan.
According to the Embassy, this is part of the one billion yen cold chain development assistance to the Philippines mentioned during the Japan-Philippines Summit Telephone Talk between Prime Minister Yoshihide Suga and President Rodrigo Duterte last May.
Since the outbreak of the pandemic, Japan has continuously provided comprehensive support to the Philippines, ranging from the grant aid for the procurement of medical equipment and establishment of laboratory surveillance sites, technical assistance for cold chain development, provision of Avigan tablets, as well as big-ticket yen loan assistance through the Covid-19 Crisis Response Emergency Loan (CRESL) and the Post-Disaster Standby Loan Phase 2.
"As has been before and until now, Japan remains committed to provide a steady stream of support to the Philippines' goal of herd immunity," the Embassy said. (PNA)