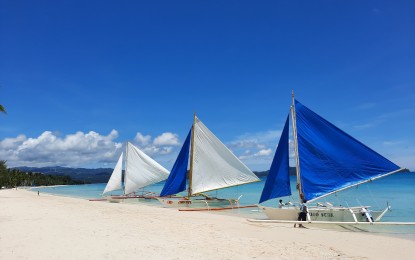 MANILA – Boracay is retaining its reverse transcription-polymerase chain reaction (RT-PCR) requirement for tourists even those fully inoculated amid concerns about easy-to-tamper vaccination cards.
"[W]e've decided to just retain in the meantime that all tourists, all arrivals in the island of Boracay should still present their RT-PCR test until such time that we can have a system of validating these vaccination cards," Aklan Governor Florencio Miraflores told reporters in a press conference on Wednesday.
Miraflores said there is a high risk of getting fake vaccination cards because even RT-PCR test results have been tampered with before.
Tourism chief Bernadette Romulo-Puyat, meanwhile, does not consider Aklan's decision as a setback to the island's recovery.
"Ang importante is nag-start na tayo sa vaccination. Ang sinabi naman ni governor na once ma-perfect na nila na walang mamemeke. Mas maganda nga 'yon at least slow but sure (What's important is to start the vaccination (for tourism workers). The governor said they would consider it once they perfect a verification system. For me it even better because at least that way, it's slow but sure)" she said in a media interview.
The Boracay announcement came following a July 2 Inter-Agency Task Force for the Management of Emerging Infectious Diseases (IATF-EID) resolution allowing fully vaccinated people to forego their RT-PCR test results in interzonal travel.
An hour after Miraflores declared a status quo on entry protocols, Health Secretary Francisco Duque III said the Department of Health (DOH) has decided to require again the negative test result while they iron out the guidelines amid concerns from different local government units.
Duque in a radio interview admitted that there were "operational challenges or difficulties" on the implementation and that the national government would meet with leaders of the Union of Local Authorities of the Philippines (ULAP) and League of Provinces of the Philippines to discuss the issues.
National Task Force (NTF) Against Covid-19 Deputy Chief Implementer and testing czar Vince Dizon, on the other hand, reminded the public that tampering or faking a vaccination card, a public document, is a crime.
Dizon and Romulo-Puyat were in Boracay to lead the vaccination of some 3,000 tourism workers on the island, the first 500 of whom were inoculated on Wednesday.
The rollout is a combined effort of the national and local government of Aklan toward inoculating 100 percent of all 40,000 residents and workers in Malay. (PNA)