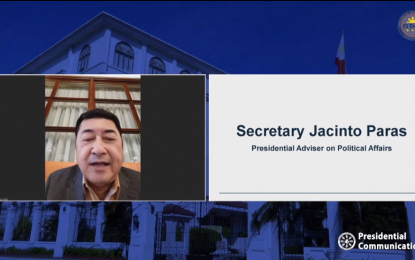 MANILA – Former senator Antonio Trillanes IV should drop his plan to seek a national post next year because Filipino voters do not consider him "a serious candidate", newly-installed Presidential Adviser on Political Affairs Jacinto Paras said on Thursday.
"Mr. Trillanes, you have nothing to say and the people of this country does not consider you as a serious candidate in this election," Paras said in a virtual press conference.
Paras made the statement, as he chided Trillanes for accusing President Rodrigo Duterte and Senator Christopher Lawrence "Bong" Go of committing plunder.
Paras told the public to ignore Trillanes, as the latter is allegedly known to be a "liar" and "dumb".
He also turned the tables on Trillanes, who he said is the "most corrupt" person for having "overpriced" consultants during his stint as senator.
Paras said Trillanes was then paying his consultants excessively "at the expense of the coffers of the government".
"He (Trillanes) is the most corrupt senator that ever lived in this country. Unang-una, yung kaniyang mga consultant, overpriced (First and foremost, his consultants were overpriced)," he said.
Despite Trillanes' efforts to vilify Duterte and Go, he would not gain public trust, Paras said.
Paras said Trillanes was merely "lucky" when he secured a Senate seat before.
"Pero under normal circumstances, baka magiging kulelat iyan parati (he could be always lagging behind)," he said. "So, bakit natin pakinggan itong dumbo na ito, itong trililing na ito, eh wala naman ito talagang 'k' (So, why would we listen to this dumb person if he really is not capable)."
Trillanes, in a video uploaded on YouTube, said government contracts worth as much as PHP6.6 billion were awarded to CLTG Builders and Alfrego Builders and Suppliers, firms owned by Go's father and half-brother in the Davao region.
He said PHP1.5 billion worth of government project was awarded when Duterte was still Davao City mayor, while the PHP5.1 billion worth of government contract was secured by Go's family in the first two years of Duterte's presidency.
Trillanes' claim against Duterte and Go came amid his plan to run for president in 2022, in case Vice President Maria Leonor "Leni" Robredo decides not to join the presidential race.
On Tuesday, Duterte told Chief Presidential Legal Counsel Salvador Panelo to take action on Trillanes' plunder allegations against him. (PNA)