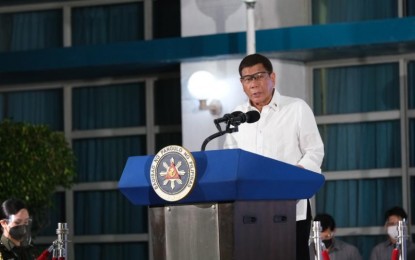 MANILA – President Rodrigo Duterte on Thursday expressed gratitude to the Japanese government for its donation of more than 1 million doses of AstraZeneca vaccine to the Philippines.
During the turnover rites of 1.124 million coronavirus disease 2019 (Covid-19) jabs developed by AstraZeneca, Duterte thanked the Japanese government and Japanese Prime Minister for helping the Philippine government have an "equitable" access to vaccines.
"These more than one million doses of AstraZeneca vaccine will surely go a long way in our quest for herd immunity," Duterte said in a speech delivered at the Villamor Air Base in Pasay City.
Duterte said the Philippines and Japan's cooperation in fighting the Covid-19 pandemic indicates the two countries' "deep friendship."
"Japan continues to be our strong partner in various development programs," he said. "Again, I express my heartfelt gratitude to Japan for all of the assistance you have extended to our country during these challenging times."
Duterte also thanked Japan for ensuring the "safe and efficient" delivery of AstraZeneca vaccines to the Philippines and preserving the jabs' quality and integrity by providing cold chain transport and ancillaries.
The donation of the 1.124 million vials of AstraZeneca vaccine to the Philippines is part of the Japanese government's initiatives to support Southeast Asian nations amid the pandemic.
Get vaccinated, public urged anew
Following the arrival of AstraZeneca vaccines in the country, Duterte renewed his call on his fellow Filipinos to get vaccinated against Covid-19 to stop its further transmission.
Duterte reassured the public that Covid-19 vaccines being delivered to the country are "safe and effective."
"Let me assure everyone that throughout our vaccination rollout we will prioritize the safety and quality of all vaccines that we are distributing across the country," he said. "I therefore urge everyone to get vaccinated and help prevent the further spread of the virus."
Duterte also reminded fully vaccinated individuals to continue following health and safety protocols amid the prevailing pandemic.
He likewise lauded the National Task Force Against Covid-19 and the Department of Health for ensuring the "successful" delivery, distribution and rollout of Covid-19 vaccines across the country.
He ensured that health authorities are working with their international counterparts in continuing the studies on the safety and effectiveness of Covid-19 vaccines.
"To my fellow Filipinos, please know that we remain committed to acquiring a sufficient supply of safe and effective Covid-19 vaccines for all our countrymen," Duterte said. "Together let us beat the pandemic and ensure our way towards a better and brighter tomorrow." (PNA)