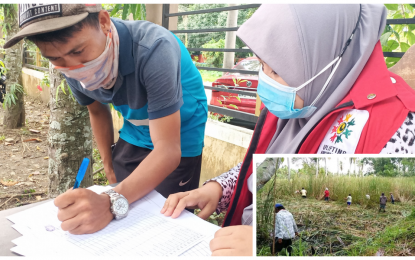 COTABATO CITY – A total of 824 informal workers were given financial assistance by the Ministry of Social Services and Development - Bangsamoro Autonomous Region in Muslim Mindanao (MSSD-BARMM) through the cash for work (CFW) program.
In a statement Friday, MSSD-BARMM Minister Raisa Jajurie said among the recipients were farmers, motorcycle and public transport drivers, fisherfolk, carpenters, and construction workers whose daily incomes and livelihoods were severely affected by the pandemic.
The beneficiaries are from the city's Barangays Poblacion 9 and Bagua 1 each receiving PHP2,750 assistance.
"The CFW program recipients had rendered services to their respective communities for 10 days in the type of work that they were assigned and paid PHP275 per day," Jajurie said.
Community services include canal and river dredging, communal gardening, tree-planting, barangay road clearing, soil piling, and cleaning the surroundings of facilities in their barangays.
Kaka Salman, one of the program recipients, said he was happy with the assistance.
"We were severely affected by this pandemic, this CFW program is a blessing for us, we thank the government for this," he said in the vernacular.
The program is one of MSSD's social interventions to the welfare of the displaced, disadvantaged and distressed individuals from the community through the provision of short-term employment that involves community-building projects and activities.
This includes disaster preparedness, mitigation, relief, rehabilitation, or risk reduction in their own communities or evacuation centers.
Beneficiaries are provided with financial support for their food and other necessities in exchange for the work they rendered.
Jajurie said the social protection program addresses community empowerment and participation as it directly involves the people in the community-building which would make them productive members of the society. (PNA)