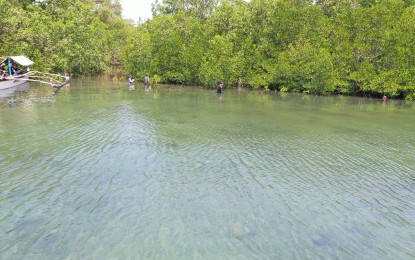 MANILA – Stronger measures for the preservation and protection of mangrove forests hurdled the committee level at the House of Representatives.
In a virtual hearing Wednesday, the Committee on Natural Resources chaired by Cavite Representative Elpidio Barzaga approved the substitute bill to House Bills (HBs) 1686, 5442 and 4052, or the proposed National Mangrove Forests Protection and Preservation Act.
The bill proposes the establishment of reservation areas exclusively for mangrove forests.
It also provides for the creation of the National Council for the Preservation of Mangrove Forests that shall introduce and implement a comprehensive program for the preservation, reforestation, afforestation, and sustainable development of mangrove forests.
Agusan del Norte Representative Lawrence Fortun, author of HB 4052, said mangrove forests provide unique habitats for countless species and are among the most productive ecosystems.
"Mangroves serve as effective disaster risk reduction tool that protects lands from inundation and erosion," Fortun said.
He cited a 2017 World Bank study showing that mangroves lost between 1950 and 2010 resulted in flooding and affect more than 267,000 people every year, based on the Philippines' current population.
Fortun highlighted that the Philippines is one of the 15 most mangrove-rich countries in the world, holding at least 50 percent of the approximately 65 known species.
"The Philippines was home to an estimated mangrove forest cover of more than half-a-million hectares. But as early as year 2000, forest cover diminished by 250,000 hectares, an extremely alarming decline," he said.
The committee also approved the consolidated version of HBs 3460 and 8925, which seeks to institutionalize the national wetlands conservation policy.
The bill seeks to establish measures for the conservation and responsible use of the country's wetlands and its resources aligned with the principle of sustainable development, food security, biodiversity conservation, and disaster risk reduction and management among others.

AMIN Party-list Representative Amihilda Sangcopan, one of the authors of HB 3460, said the policy covers all types of wetlands including inland, coastal, marine, and man-made wetlands in the country.

"The protection of our wetlands and ecosystem is not just timely but also necessary, especially during these times where clean, potable water is extremely important. More directly, wetlands are also a source of livelihood and food, it is also home to biodiversity. Wetlands are the primary sources of our freshwater, it buffers off floods and droughts, our recycler of nutrients and chemicals," she said.

Under HB 3460, the Department of Environment and Natural Resources (DENR), along with other government agencies and sectors, shall create a National Wetland Conservation Program and Action Plan tasked to conduct assessments, rehabilitation, protection, promote, and development through research and knowledge management of the country's wetlands.
All government agencies, offices, and local government units (LGUs) shall integrate and mainstream conservation and wise use of wetlands into their policies, rules and regulations, programs, projects and development planning processes.
They shall also directly consult with the DENR and affected LGUs in the development and implementation of their plans, programs and projects having an impact on wetlands.
"Our wetlands are the kidneys that regulate water and filter waste from the landscape as with the forests as the lungs of the Earth. It is but right that we take care of our environment the exact way it takes care of us," Sangcopan said. (PNA)