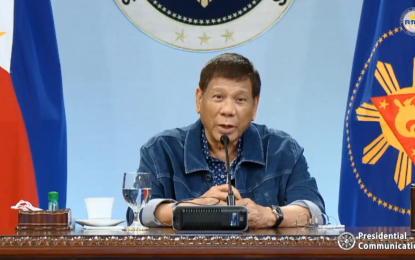 MANILA – Senator Emmanuel "Manny" Pacquiao is punch-drunk, President Rodrigo Duterte said on Monday.
Duterte again criticized the boxer-turned-senator for claiming that billions of pesos were lost due to corruption across government agencies.
Pacquiao earlier accused the Department of Social Welfare and Development (DSWD) specifically of failing to distribute PHP10.4 billion in cash aid from the social amelioration program (SAP).
"I think Pacquiao is punch-drunk and I leave it up to you…I think he's to be talking about PHP10 billion from nowhere," he said in a pre-recorded Talk to the People.
Duterte expressed doubt that the Commission on Audit (COA) would even overlook that PHP10.4 billion funds went missing as Pacquiao claimed.
"Papayag ba naman ang COA niyan? Hindi lang 'yan, papayag ba kami? Papayag pa ang mga secretary ng mga departamento na ganun na may mawala (Would the COA allow that? Not only that, would we allow that? Would the secretaries of departments allow that much money to go missing)? PHP10 billion? That is a statement coming from a guy who is punch-drunk," he added.
Duterte also said he has fired more personnel from the Bureau and Immigration (BIR) and the Department of Public Works and Highways (DPWH) due to corruption.
"This week, I signed about two documents terminating --- sa (personnel from the) BIR na naman pati sa (and the) DPWH," he said.
He assured that Public Works Secretary Mark Villar is working beyond his scheduled working hours to weed out the agency of corrupt personnel and officials.
"DPWH is safe. Secretary Villar is working overtime at pinagtatanggal niya, at my suggestion, na kunin niya 'yung mga tao na known to be corrupt and incorrigible. Sabi ko sa kanya, 'Ilagay mo na lang muna sa opisina' (Secretary Villar is working overtime to remove those who are corrupt and incorrigible. I told him 'Assign them in the office') while we will dig into the records to see if they have committed graft and corruption," he added.
In October 2020, Duterte directed the Department of Justice (DOJ) to investigate government-wide corruption starting with the DPWH.
Duterte has repeatedly vowed to fight corruption until he steps down in June 2022.
Last week, Duterte assured the public that he is trying his "very best" to eradicate corruption in government under his watch.
"You know, I've been trying really my very best to curb corruption," Duterte said during his meeting with the Partido Demokratiko Pilipino-Lakas ng Bayan (PDP-Laban) executives and other government officials.
He also hit back at Pacquiao by raising the previous tax evasion complaint against the senator.
Duterte said Pacquiao, having a total of PHP2.2 billion underpayment in taxes, should also be considered as a "corrupt" official.
He implied that Pacquiao's corruption allegations stemmed from the fact that he was impatient to be named as the presidential bet their party.
Duterte and Pacquiao are chairman and president, respectively, of the ruling PDP-Laban party. (PNA)