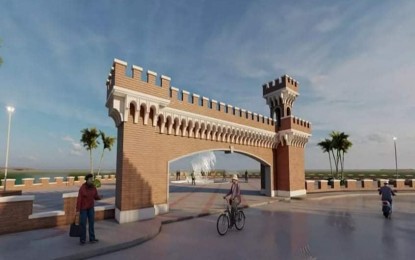 SAN JOSE DE BUENAVISTA, Antique – The provincial government here will start relocating 39 families of informal settlers (IS) affected by the proposed "Sunset View" park project in the first week of September this year.
The relocation schedule was agreed upon during their virtual meeting with the Provincial Environment and Natural Resources Office (PENRO) and the local government unit (LGU) of this capital town, according to Eby Butiong, secretary of the Antique Provincial Government's housing board, on Tuesday.
The relocation is in preparation for the construction of the park.
"The relocation of the IS will be a shared responsibility of the provincial government and LGU San Jose de Buenavista and PENRO," he said in an interview.
The informal settlers will be relocated to the provincial government-owned lot in Barangay Mapatag in the municipality of Hamtic.
The provincial government and the LGU of San Jose de Buenavista will provide financial assistance to be used use during the transfer.
"The PENRO will then be donating logs to be used as construction materials for the houses of the IS in the relocation site," he said.
The Sunset View park will be established in the marine area in Barangay Maybato Sur here. It is expected to be a new tourism destination especially for those who would like to see the beautiful sunset.
The project was broached by Environment Secretary Roy Cimatu during the ground-breaking ceremony for the new office building of the PENRO also in Barangay Maybato Sur.
Cimatu said he envisioned the site of the project, a reclaimed area, to become a tourist destination.
The building with a sailboat design reminisces the historical landing of the Bornean datu (chieftains) along the shorelines of Antique to establish their first barangay. (PNA)