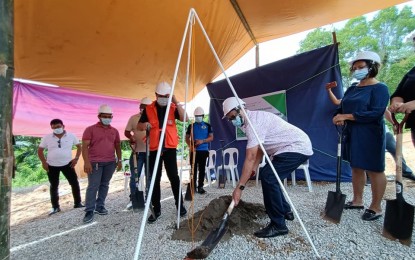 ILOILO CITY – A 16-bed isolation/quarantine facility will be constructed in the government-owned lot in Barangay Loong, Concepcion, Iloilo following a groundbreaking ceremony held on Tuesday.
The PHP13.5 million project is the first regional isolation facility in Western Visayas to be funded under Republic Act 11519 or the Bayanihan To Recover As One Act, according to Cindy Ferrer, information officer of the Office of Civil Defense (OCD) in Western Visayas, in an interview.
"Concepcion is one of the first (local government units) to apply for the isolation facility under the Bayanihan To Recover As One Fund. Fortunately, it was granted," she said.
While the application is coursed through the OCD, particularly through its rehabilitation and recovery section, yet the fund is downloaded to the local government unit (LGU), which also undertakes the bidding.
Ferrer added the project was granted considering the location, which is mostly composed of islands and islets, and its cases, according to their report, is increasing due to the very active tracing of confirmed cases down to the third close contact.
The project is situated beside the PHP32 million regional evacuation center funded by the Department of Public Works and Highways (DPWH) and which was requested by the LGU two years ago and the construction is already ongoing.
OCD regional director Jose Roberto Nuñez, led the groundbreaking ceremony, together with Concepcion Mayor Raul Banias, and members of the Regional Incident Management Team of the Regional Disaster Risk Reduction and Management Council (RDRRMC).
Ferrer said LGUs can apply for the funding to build an isolation facility.
Applications are still accepted at OCD regional office for validation by the rehabilitation and recovery section while waiting for the approval of the Bayanihan Act 3, she added.
Apart from Concepcion, the municipality of Libacao in Aklan is also a recipient of the project with a PHP67.5 million fund.
Apart from the isolation facility, Concepcion also received meal assistance through the OCD worth PHP780,000 in December last year and another PHP2.3 million this 2021 for quarantined Covid-19 patients, responders, and personnel manning its main isolation facility in Bacjawan Sur and two offsites serving as temporary isolation centers in Barangay Malangabang.
"We only accept applications and endorse them to the national (headquarters) for their approval depending on the availability of funds," she added.
A report by the Iloilo Provincial Health Office (IPHO) showed that as of June 12, the municipality of Concepcion's 260 active cases is the highest among 42 municipalities and one component city of Iloilo province. (PNA)