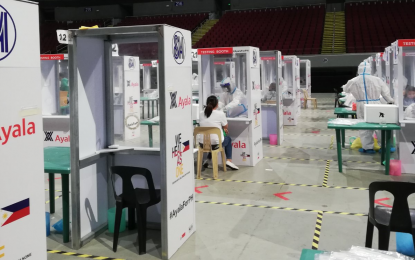 MANILA – An additional 5,840 patients have beaten the coronavirus disease 2019 (Covid-19), pushing the country's overall recovery count to 1,408,634 on Tuesday.
In its latest case bulletin, the Department of Health (DOH) said those who have recovered from the illness account for 95.1 percent of the Philippines' total case tally of 1,481,660.
The agency also reported 3,604 new confirmed cases and 77 new deaths.
These figures bring the overall tally of active cases to 46,934 and the death toll to 26,092.
The latest figures showed 89.6 percent of the active cases are mild, 4.3 percent are asymptomatic, 2.6 percent are severe, 1.83 percent are moderate, and 1.6 percent are in critical condition.
The DOH said there were five duplicate cases removed from the total case count.
It added that 72 cases previously tagged as recoveries have been validated to be active cases, and 47 cases that were previously tagged as recoveries were reclassified as deaths after final validation.
All labs were operational on July 11, while seven labs were not able to submit their data to the Covid-19 Document Repository System (CDRS).
To date, 56 percent of 3,500 intensive care unit beds, 46 percent of 19,400 isolation beds, 42 percent of 12,100 ward beds, and 37 percent of 2,800 ventilators dedicated to patients with Covid-19 are in use nationwide.
Meanwhile, 43 percent of 1,100 intensive care unit beds, 37 percent of 4,600 isolation beds, 32 percent of 3,400 ward beds, and 33 percent of 1,000 ventilators dedicated to patients with Covid-19 are being used in the National Capital Region. (PNA)